I am writing on this because to perform operations successfully availability of the resources is important and how to make resources highly available is the main task in planning a data center. Data center high availability is the requirement of all business organization in this modern era of technology to perform all business operation avoiding the delay in these operations that's why Data center high availability is important to reach the continuity off business operations with minimum downtime.
What is Data Center High Availability
Introduction of High Availability
High availability is a characteristic of system solutions, which aims to ensure an agreed level of working performance, usually up time for a higher than normal period. For example, hospitals, banks stock exchange, internet service providers all these organizations need data centers and their systems highly available to perform their routine daily activities. High availability (HA) is all about designing the data center with minimum downtime in the aspect of software and hardware also make sure that those business application and resources are available for customer usage in any kind of recourse failure. High availability includes resources like hardware, software's and applications.
Why High Availability is Important
High availability system solutions protect companies from their system failure. HA does not mean that there is zero downtime. Also, HA solutions are a dedicated and scalable solution which is designed to meet any business organization requirement. In the world when business organization required continuity in their work and they do not afford downtime in this type of situations high availability is the only solution in this competitive business world. Implementation of applications or business system on a single server with some fault tolerance and UPS backup will not provide you 99.99% availability. Because any kinds of failure like software, hardware, and the network can become the cause that this system and application is unusable for end user until the problem is not resolved.
How we can achieve High Availability
These are three basic levels of high availability if we achieve all three levels our design is 80% satisfy the high availability requirements. Remaining 20% we can achieve by making sure that we have the proper power supply redundant UPS and generator backups for business system 99.99% availability. For high availability, we have to work on all bellow characteristics of high availability and plain redundant hardware like switches, servers, firewalls, and routers in the data center.
Hardware redundancy
Network redundancy
Software or Application Redundancy
Hardware redundancy
Hardware redundancy can be achieved using more than one hardware of the same type but we have to be very careful in our design because increasing number of devices can increase the cost of design. So we have to decide that on which point it is necessary to increase hardware to reduce fault tolerance and increase uptime. When different techniques, such as using more reliable equipment component, manufacture quality, testing, and design simplification have been failed, then there is only one solution left hardware redundancy. In small or medium level business organization implementing hardware, redundancy is difficult to implement without analyzing what is the Pros and Cons of it.
Network redundancy
Within a network infrastructure network redundancy is a process by which network devices instance, hardware, and communication medium is installed. Network redundancy is a method in which we ensure the network availability if any network device and network path is not available. To provide redundant network communication in enterprise network infrastructure in all kind of business organization whether it is small or big network redundancy must be implemented. Multiple cable network path, redundant switches, and routers are the main key factors for achieving network redundancy. When the primary network path unavailable in this situation redundant network path ensure availability of the network services.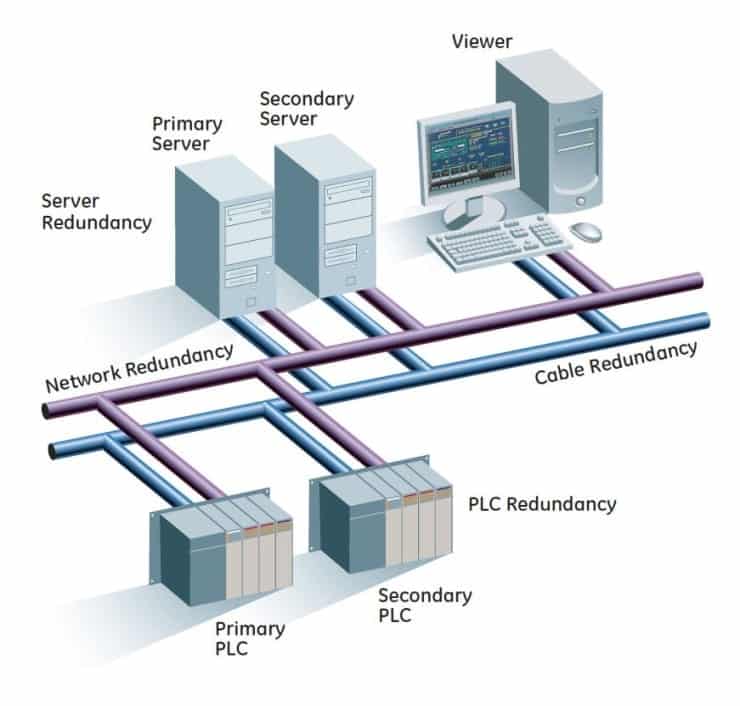 Software and Application Redundancy 
Software and application redundancy very useful in many ways like fault tolerance and reliability. Software redundancy is the key ingredient of many techniques in several areas of software engineering, especially fault tolerance, software testing, and automatic program repair. These are the main software engineering techniques that either rely on or identify redundancy. We start with a categorization of the forms of redundancy in a software system and then describe the techniques that either identify or exploit redundancy, highlighting their limitations and motivating the main contributions of this article. Obtaining successful results by using redundancy to increase hardware reliability led developers to apply the same principles to software, in particular, to increase reliability. A software system is redundant when it can perform the same functionality through different executions. The presence of alternative execution paths or execution environments is the primary ingredient of all those techniques that feat redundancy. Different from hardware systems, the simple replication of software functionalities cannot deal with many failures that derive from development and integration problems that often occur in software systems. For this reason, developers used several approaches based on the independent design and implementation of multiple versions of the same components. These techniques are based on the assumption that programming faults are not correlated, and therefore several independent designed and implemented versions are unlikely to fail on the same input of the system.
Conclusion
This article is my attempt to understand how we can achieve data center high availability in the business organizations. In future, I will further explain in my articles key features and give you complete solutions that how you can be able to design and plain Highly Available data center. Thanks for your time to give a read on my effort.