Open Source Bulk SMS Sender Android App
Is there an upcoming Event and you want to send an invitation to all of your contacts via SMS?
Or you have Good NEWS for your friends/family?
You can easily do all these and even more with "Bulk SMS Sender", an open source android app that helps you send SMS messages to large amounts of recipients.
What is Bulk SMS Sender?
Bulk SMS Sender is really small in size but not in purpose. It's a powerful open source Android application that allows us to send customized SMS messages through their carrier network to all contacts that are listed in a Text input file. Bulk SMS Sender can serve for mass delivery of holiday greetings, as an effective marketing tool and more.
Bulk SMS Sender reads a list of contact numbers from a Text file and sends SMS to all contacts one by one. It can be used for many purposes. e.g Educational, Commercial, Learning, SMS Marketing etc.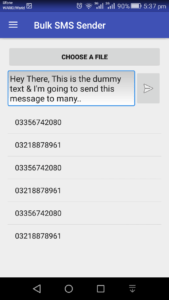 Features
Easy to use
Send SMS messages to an unlimited number of contacts with just a few clicks
Get live progress updates during the sending process
It takes a pause after a specific interval of time because a large bulk of SMS can spam your chip
We can add new features to your request, just email us with any feature you have in your mind
How It Works
First of all, we need a text file of phone numbers (one number in a single line)
Open Bulk SMS Sender App and choose phone numbers' file.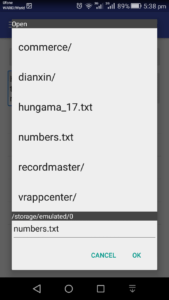 Bulk SMS Sender App has some really useful settings.

You can add some pause interval after some SMS.
You can delete the number from the file after SMS sent to that number option is also available in the settings.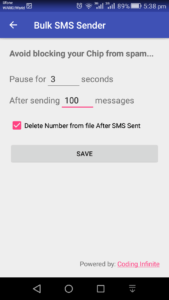 The app will start sending SMS right after Send Button on Home screen.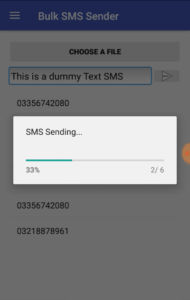 Source Code of Bulk SMS Sender Android App is available on Github, you can download the Complete project, also feel free if you want to add any New Feature.