Introduction
There are various terminologies in designing that keep us confusing, right? Or sometimes we just overlap the definitions. The two big terms that related to experience confuse us more are UX (User Experience) and CX (Customer Experience).
There will be a lot many questions going on in mind. Not to worry! This article will let you have an answer to every doubt. Let me start with brief information on UX and CX.
What is UX?
UX is about the experience of the user while interacting with your site through different devices like smartphones, smart TVs, tablets or any other such devices. UX is important to get the conversions easily. With a good UX, customers have the ability to find every information seamlessly.
UX holds importance for any digital service. No matter how innovative you make your website, if a user cannot navigate through it easily, they will never get back to your site. To keep your users coming back, you need to design a website accurately keeping the user's thought process in mind. Do you know the fact that users decide only in a few seconds whether to go for your site/app further or not? This shows the importance of UX in your site.
What is CX?
People call it a new way of marketing. As the name suggests, it is all about the experience of the customer. In CX, it is not just about the digital interactions, but everything a customer gets through during their service period. In a way, CX is how customers get engaged with your products, services or brand.
The main objective of CX is to increase customer loyalty, satisfaction and get positive feedback for your business. Because the repetition of the customer to your website will depend on their experience. CX is important as your customers have the power to choose among competitors. It is observed that about 86% of the customers would pay only after a good CX. Offering a good CX for your products and services will not only help you to increase your revenue but will help you to gain a competitive advantage.
UX vs CX
What is the actual difference between UX and CX might be troubling you? Here is a quick glimpse of the same.
| | |
| --- | --- |
| User Experience | Customer Experience |
| User Experience is about the experience a user gets while interacting with your product or site | In contrast, Customer Experience is about all the interactions a customer has with your brand whether it is digital or physical. |
| A good UX will give your user an ability to, Get information easilyGet their work done quicklySurfing through your site with ease | A good CX will give your customer, A pleasant, professional & helpful interactionA positive experience to get back to your site again and again |
| Typically focuses on making a quality interaction between the site and user | Focuses on improving overall customer experience with your site or business |
| UX can be measured by bounce rate, a number of actions performed, time spent on site, etc. | CX is measured by the satisfaction and customer loyalty. |
Impact of UX and CX on business
So, you got the point clear now that UX and CX are different.
Successful businesses know that to maintain an everlasting relationship with the user, CX and UX must work together. Get through the below examples to make it more clear.
Good UX + Bad CX
You might have a really good experience while booking a movie ticket on an application or website. But later you need to cancel the ticket and it took a long time to reach the customer service for the refund process.
Bad UX + Good CX
You find that the website design is complicated and it became difficult to navigate but later you found that customer support service to solve the problem.
Henceforth, it shows that business needs both CX and UX to make a company brand. Just having only UX or CX good will not work, you need both of them to make your users' engagement everlasting.
How CX and UX work together for business?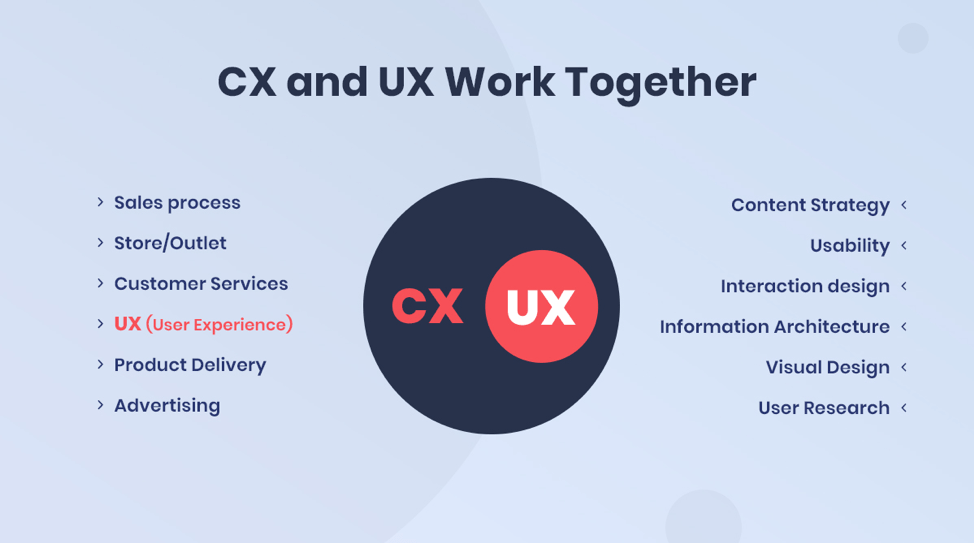 You might have made a huge cost to build your app or website, right? After that, if you don't get effective results, your business will be ruined. But to make it last longer, keep your UX and CX work together. Below given are some of the ways, UX and CX can work together,
Make it easy for Users to give Reviews
Whenever your customers are in trouble/ problem, give them an easy channel to contact you through phone, mail, chat, etc as per their niches. List out which phone to call when your user faces any issue, in order to avoid any confusion.
Have a platform where CX and UX can Communicate
Most of the time, people who work in CX do not communicate with their users just like the people in UX do. So there are chances that you might miss some of the bugs on your app or site. Therefore create a platform where CX and UX can communicate and you can find the main issue your users are facing.
Involve your Marketing Team
As we know, UX starts once a user clicks on a website. Similarly, for CX if people don't find you when they're in trouble, they will just go to your competitors. Therefore, discuss with your marketing team on how people can find you online.
This was all on how CX and UX can work together for your business. But don't forget they are different terms.
Who Won The Battle – CX or UX
I can say that a good User Experience is the foundation of CX. None of them is more important than other. I can say that UX and CX have complementary functionality. UX never gets in touch with the customers but only the product. While CX is all about having multiple interactions with your company, whether it is online or offline.
So, there might be a chance that your customer might be unhappy with your UX or vice versa. UX is a part of CX, henceforth as a conclusion, we can say that both are neutral in the battle. UX and CX both are dependent on each other. To make your business a brand you need CX as well as UX.
Final Thoughts
As a wrap of this article, I want to let you know that get the best out of your UX and CX. The success of your business will depend on your UX as well as CX. Both are two sides of a story, UX which you address at a micro-level and CX that acts as the climax at a macro level.
What are your thoughts? Are we on the same track? Or we missed out on anything? Kindly let me know in the comment section below.
Related Article:
– 7 Common Web UX Mistakes That Can Damage Your Business
Disclosure of Material Connection: Some of the links in the post above are "affiliate links." This means if you click on the link and purchase the item, we will receive an affiliate commission. Regardless, we only recommend products or services we use personally and believe will add value to our readers.