Even though, most of us would be coding in one primary programming language, it is always good to keep an eye on the shift that happens in the world of programming. TIOBE is an organization that has created an index for programming languages and tracks the change of that index, every month.
Recently, the world-renowned TIOBE programming language community recently released the November programming language rankings. Here, I hope to provide some latest trend reference for technicians.
C Getting Close To JAVA
According to the latest list, there is not much change in the programming language Top 5 compared to last month, in which Java still sits at the top, followed by C, Python, C++, and C#.
However, there are some interesting trends that deserve our continued attention: C, which currently accounts for 16.037% of the market, is gradually approaching the first Java (16.246%), with a difference of only 0.2%. In this regard, the TIOBE official predicted that the C language will successfully attack Java before the end of this year, becoming Top 1.
Python and C++ are getting Close
In the past year, Python has maintained a rapid trend in the fields of data analysis and artificial intelligence , accounting for 9.842%, and C++ is getting farther and farther.
Swift came in top 10
In addition, we have found that in the list of recent months, the programming language in the tenth position has been changing. Two months in this position is SQL, last month was Objective-C, and this month Swift took over this position.
Compared to the 11th Ruby, Swift has a gap of only 0.4%. Peeping from the side, this may mean that Swift will remain in its top ten position for the next few months.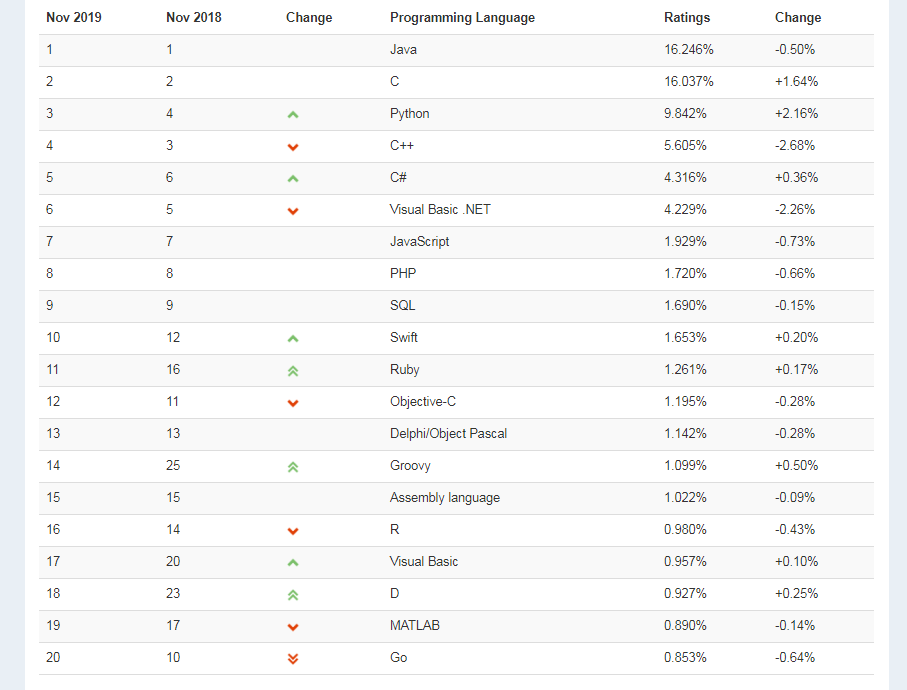 Remaining Programing Languages 21-50
The complete top 21-50 of programming languages is listed below.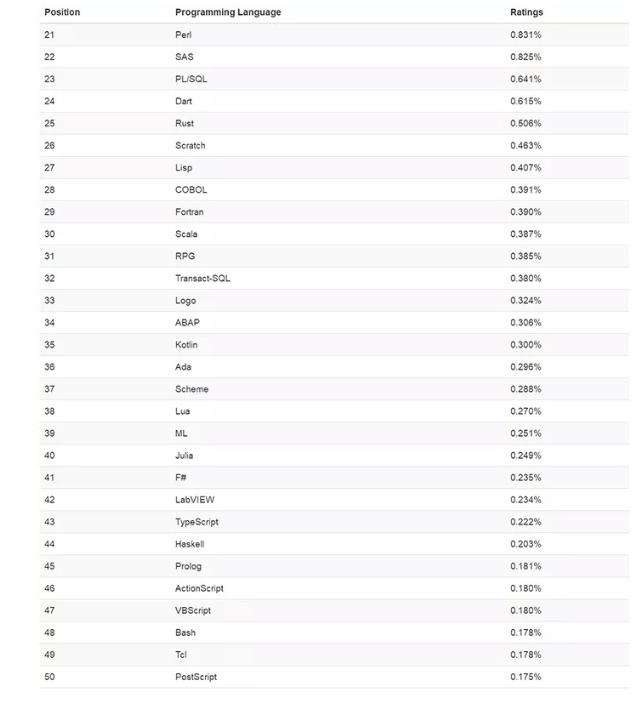 ---
In last I just wanna say this in the upcoming year we're planning to release our first programming language survey. So, we'd love to know your feedback on this, please vote for your favorite programming language for 2019. There are already 10k+ programmers votes for survey.
[totalpoll id="3022″]
Disclosure of Material Connection: Some of the links in the post above are "affiliate links." This means if you click on the link and purchase the item, we will receive an affiliate commission. Regardless, we only recommend products or services we use personally and believe will add value to our readers.