Bootstrap 4 and Angular 7 are buzzwords. These top frameworks guarantee a stable work, responsive design, and absolutely clear structure. These key points are highly expected when you start searching for an admin dashboard template.
There are always two ways of choosing the HTML dashboard template:
free templates
premium templates
Everyone knows that more power, reliability, and productiveness is real to find in Premium templates. For this reason, I propose you to look at the 10 most attractive and forcefull HTML5 Bootstrap admin templates. Then learn some exceptional features about these beauties, try demos and choose the best one. I'm sure you can find something really blue-chip and become the owner of a top-notch admin dashboard.
It's enough to play for time! Let's get started!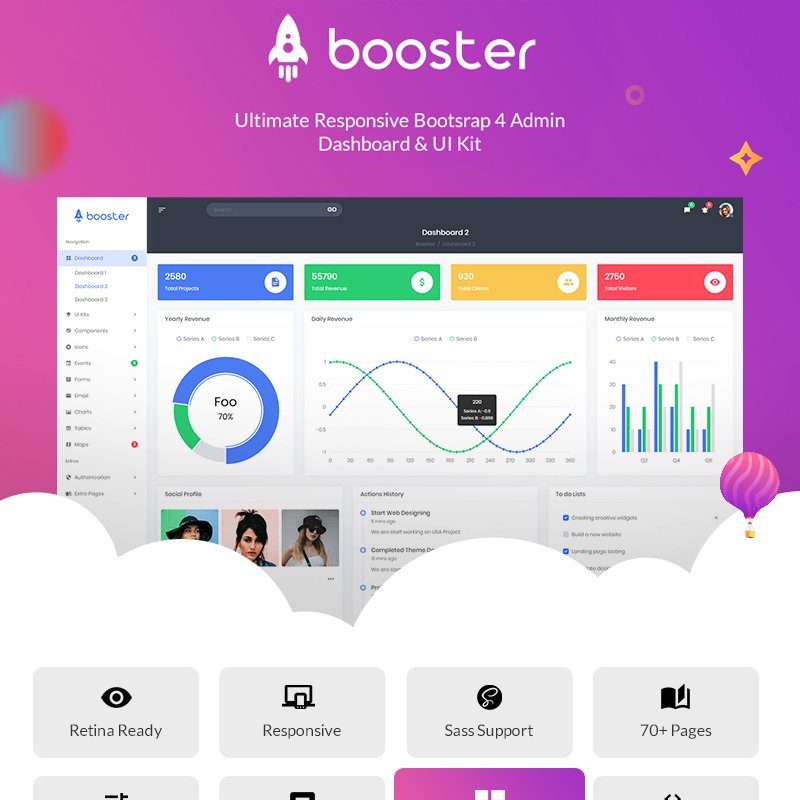 This is extremely important to have attractive and colorful dashboard designs. It has been proved that pleasant colors make you feel better. Especially, if you are working in front of HTML admin for long hours. These vibrant colors will truly make your life more vivid and break the monotony.
Of course, the layout is significant but what about the inner world of the MonsterAdmin dashboard? This template has recently got a powerful update and is ready to show itself to the world.
There are some must-read and brand-new features about this beauty:
It's easy to work with thanks to updated JS core. Now you have an ability to see absolutely understandable and structured code. Front-end developers will be excited!
No way without Bootstrap 4, and it's here for you. Use it thoroughly.
Are there people who haven't got any gadgets? The answer is clear so that the template is fully responsible and mobile-friendly.
Migration to PUG and Sass.
Also, it includes a dropdown menu, Google maps, favicon, extra pages layouts.
HTML5 dashboard template contains a parallax effect, which will do your scroll more visual and appealing.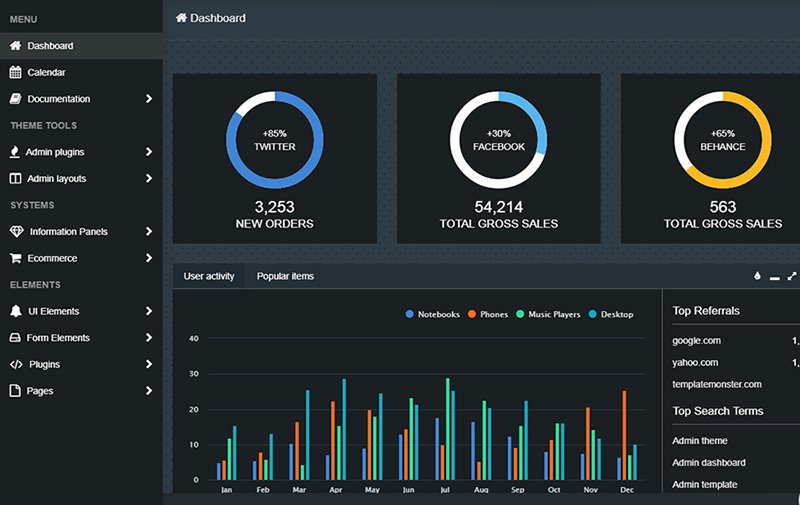 It includes all the possibilities to keep an eye on the web traffic, control the number of clients and be sure in your dashboard.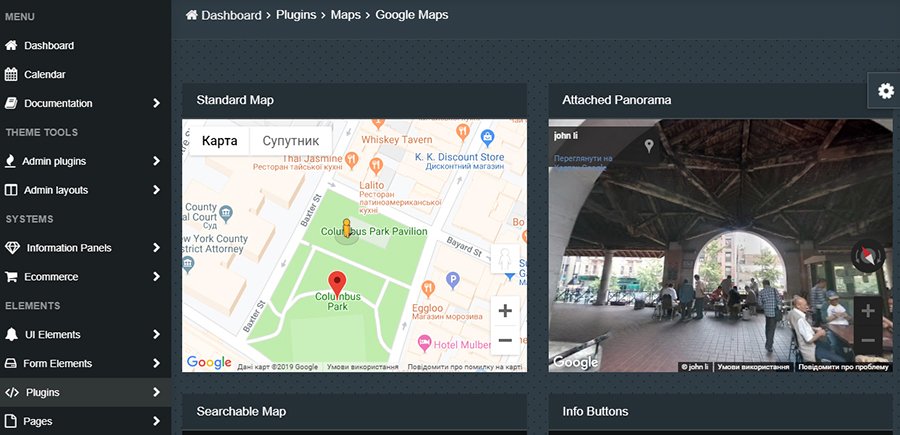 Choosing the MonsterAdmin dashboard you will save plenty of time, have fun and become a happy owner of the Premium admin dashboard HTML template.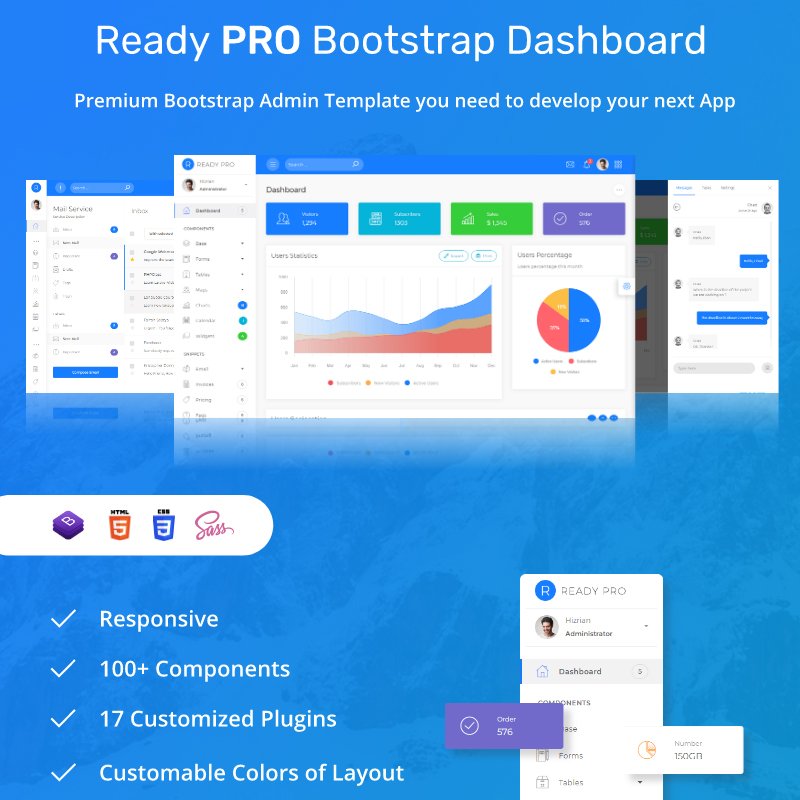 Now take a look and the next HTML dashboard template, which is waiting for you to help with all your projects. Ready Pro Bootstrap Dashboard is one of those Bootstrap admin templates that will gain your heart from the very beginning.
Right here is an example of good-looking and the fastest dashboards. Its clean design attracts anybody. The main thing you must check out of this template is highlighting in hover. Here's highlighting, there's highlighting, everywhere's highlighting. It makes any admin alive.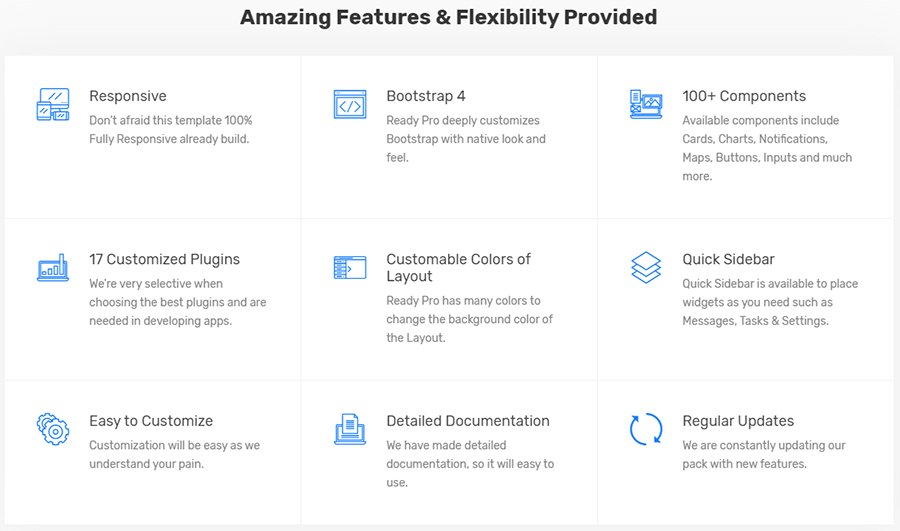 Not by highlighting alone! This pretty and forcefull admin dashboard template is feature-rich. So, what does this richness consist in?
The abundance of different UI components. For example, more than 100, and each of them is your endless usage.
Responsiveness is must-have today, so apply it everywhere you want. This template will look perfect on any gadget.
Customizable colors of the layout. You don't need to do a big number of actions to change color. Also, it's possible to edit topbar, sidebar and logo header appearance to your taste.
It goes without saying that the Bootstrap4 framework runs the world. And this dashboard, too.
nearly forgot to mention that it contains 17 customizable plugins. Be sure that all the plugins are necessary and won't stop the speed of dashboard working.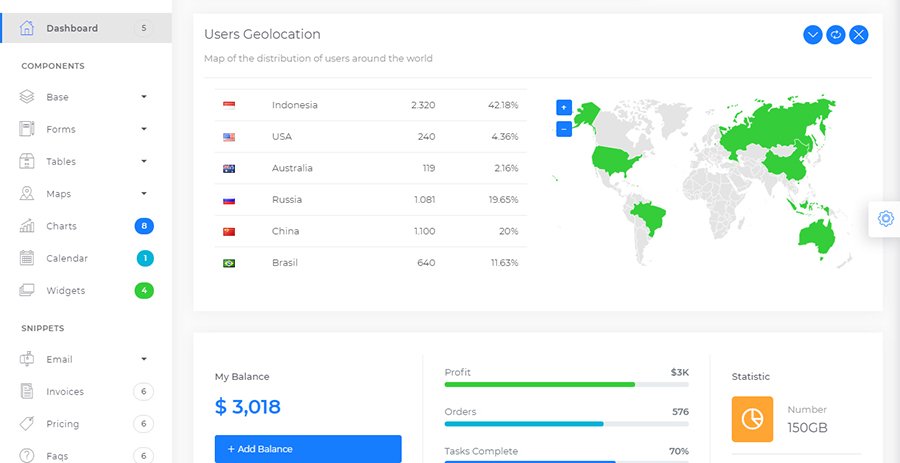 This Ready Pro Admin template says all by itself. Look at the preview to be convinced by yourself.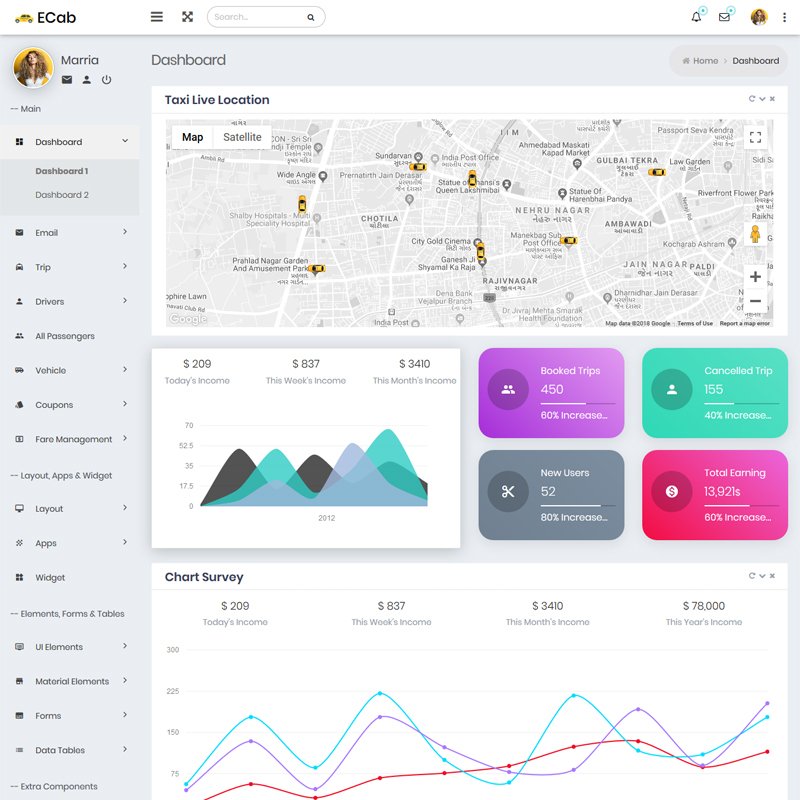 Sometimes it's hard enough to get a desirable dashboard. Especially, if we are speaking about the admin which you can apply both in your own projects and for your clients. Everybody wants to find something personal and original. Something that will be really appealing but simple at the same time.
There's a solution which is called ECab – Taxi Admin Template. This one looks absolutely structured. It contains plenty of roundish elements that are a delight to the eye. Pleasant and calm colors will make a relaxing atmosphere. It's significantly for your eyes!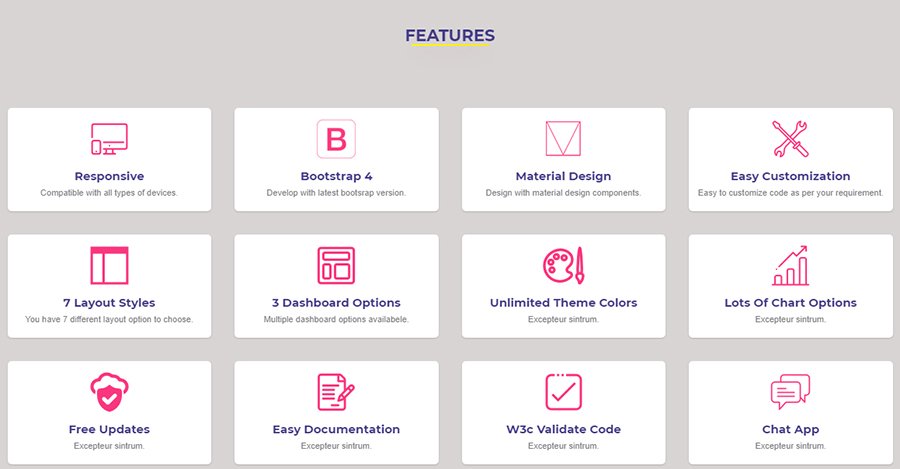 Let's get to know this simple dashboard HTML template better and study some of the secrets in this stunning template.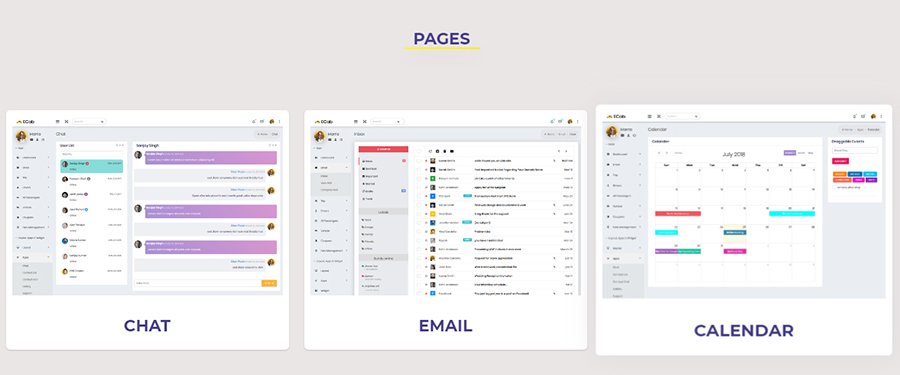 The latest Bootstrap 4 is already in this admin.
You will get 2 absolutely different dashboards in one template. What can be more beneficial?
This pretty ECab comes with the pack of Material Design Lite Components. This is a good opportunity to implement Material Design on the website. All your web projects will be marvelous and attractive.
How many pages are you expecting to see over the template? Get ready because there are 200+ HTML5 pages for any of your needs.
The developers don't forget about the jQuery Plugins and include the most powerful and popular plugins.
Choose any you want! 5 Different Layouts Desktop and each of them is extraordinary and remarkable.
So, don't be shy and test the demo to see for yourself.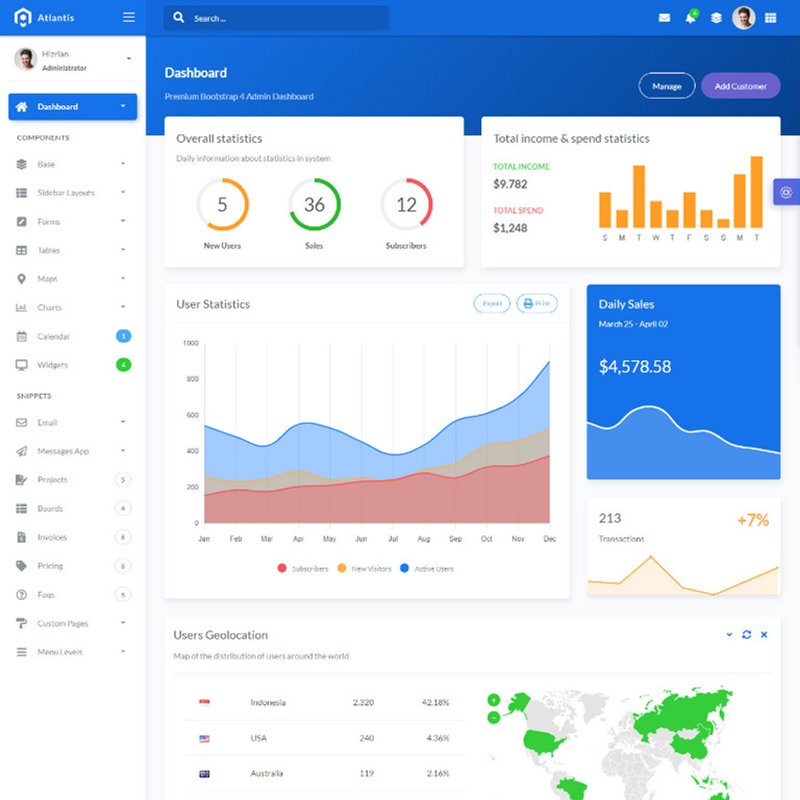 What a great variety of HTML5 Bootstrap admin templates! Dollars to doughnuts that you have no idea which one to choose so there is cheering news. Give a tumble on the next no less beautiful than the other admin themes.
Atlantis tells its own tale. It's full of various UI elements, it's ready to save your time on designing the dashboards and just enjoy your work to the max.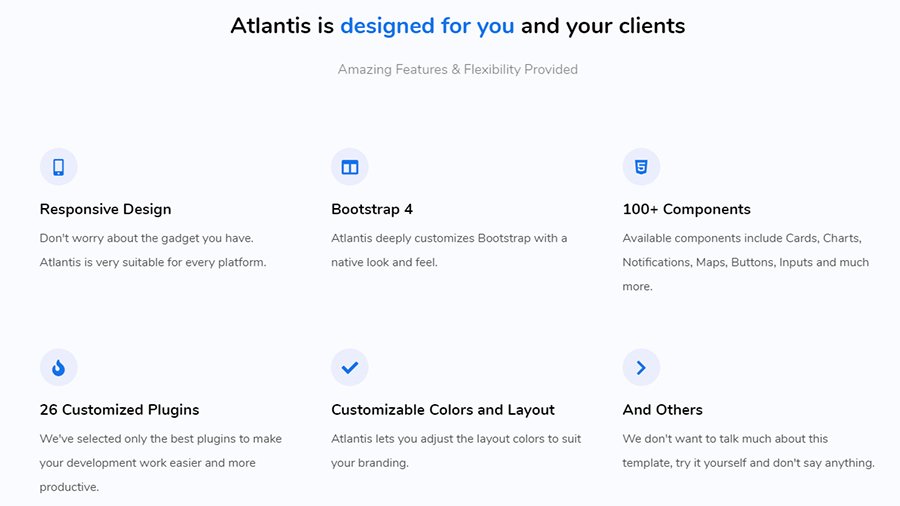 Do you want to go to bed early and with the high-qualified made-up admin? So, don't go by the next features and think of it.
The first hot feature is having 26 absolutely customized plugins. You will get only the most productive and Successful plugins which guarantee you a stable and smooth work process.
Responsive design is a thing that should be in all of the contemporary templates. Mainly, if it's a dashboard and you want to have the ability to use it via any gadget.
If your project has an individual branding and I'm sure it's a right, this feature is yours. All the layouts and colors are customizable. Use something that you really want.
Wow! UI kit. The number of different components is 100+ components and they include such staff as charts, notifications, maps, buttons, inputs, etc. All you need in one dashboard.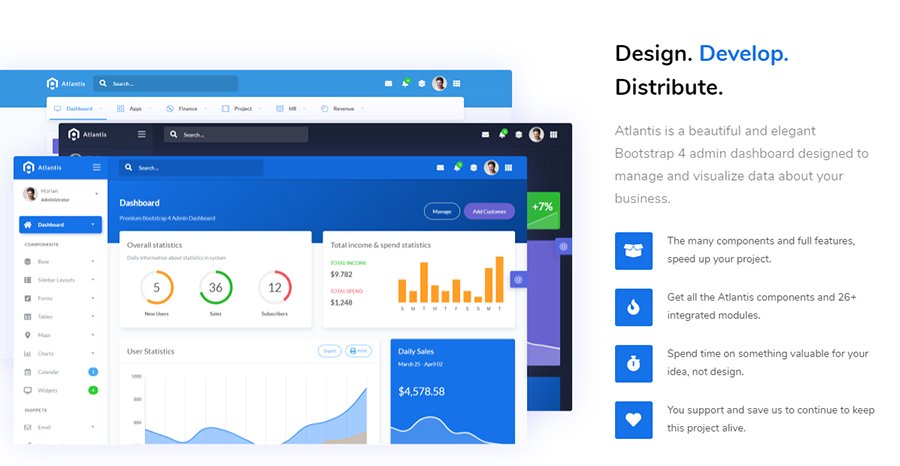 That beauty is really worth your attention. Frankly, there are a lot of surprises inside. Just don't wait for a moment and try it by yourself.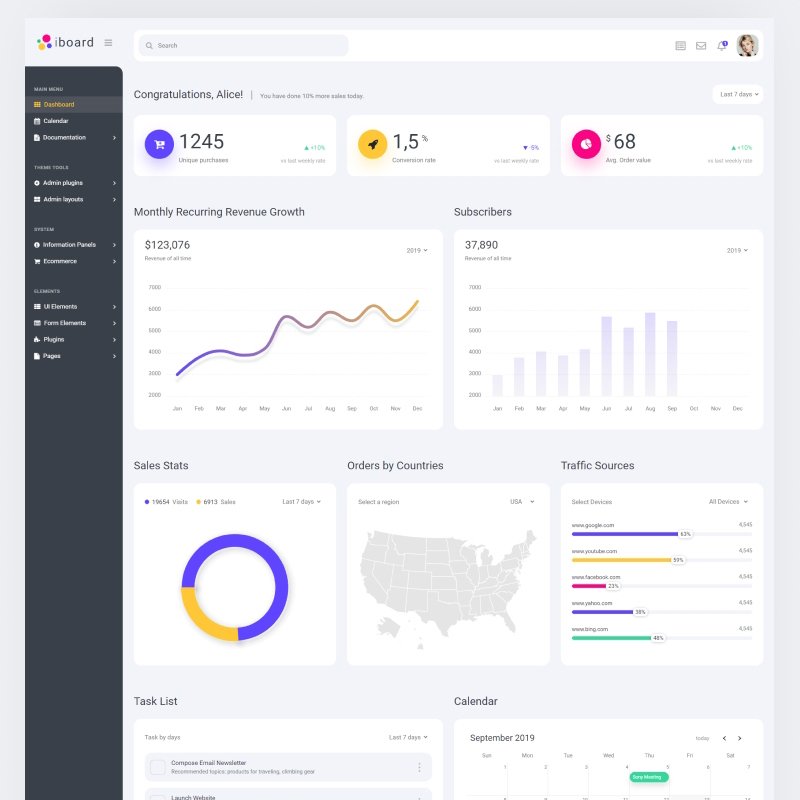 Now you will be extremely satisfied with the next Bootstrap 4 admin template. Iboard Multipurpose Dashboard Template is here to present the unbelievable and forceful user experience. This sample is clear and creative. This is a great example of the admin tool that you were looking for all this time.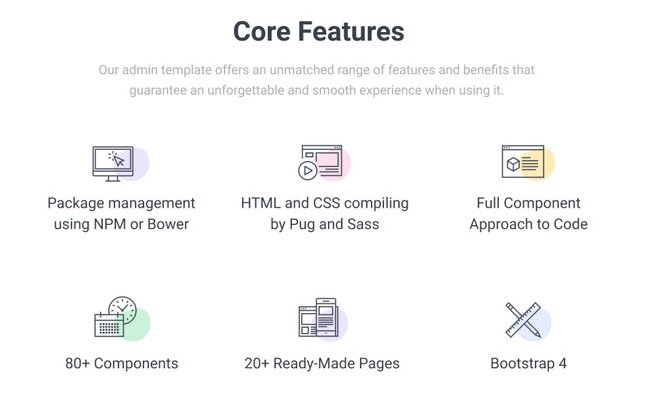 It allows you to track the necessary statistics such as sales, browser shares, subscribers and so on. Also, you can keep under control the web traffic. The chat and notification system are at your service and placed in a convenient and elegant header.
Propose to be closer to this perfect HTML admin template and learn some of the highly useful features.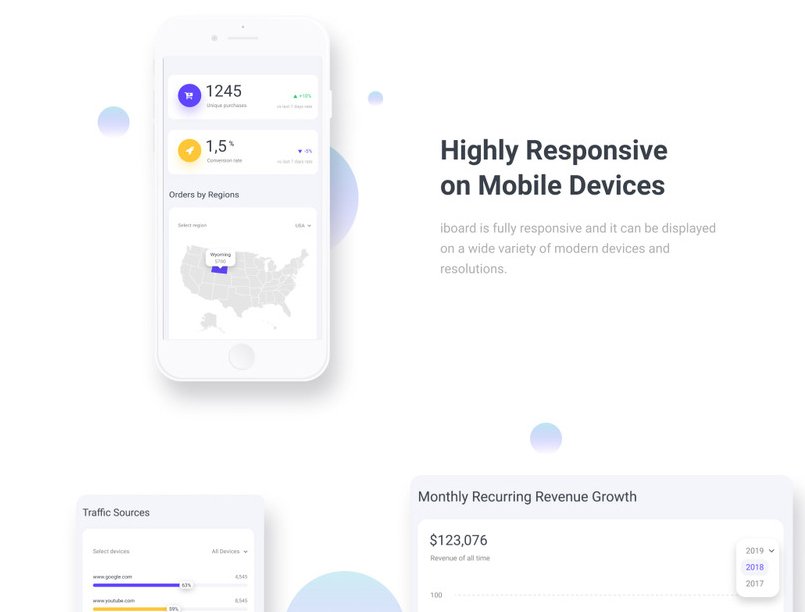 Of course, the Bootstrap 4 framework will fix up with fast and confident work.
HTML and CSS compiling by Pug and Saas.
The large set of third-party plugins. There are such additions as Summernote, Tag-manager, Color picker, Easy zoom and great amount of others. You can see the whole list below and then try it by yourself on the demo.
Browser compatibility isn't the last thing today. Chrome, Safari, Edge, Firefox – use each of them without any doubts because the Iboard can work well there.
Full component approach code.
80+ exceptional UI components are there and ready to make the dashboard more active.
More than 60 pages to all tastes and needs. Just adjust what you want.
And remember that modern editor open the brand-new possibilities to a webmaster. So, don't be shy to use it all out.
Are you still looking for a helpmate in your business? There is something more than just a helpmate. This is a real controller and developer of any of your business and project. IoDashboard – Intuitive Dashboard Admin Template is such a thing I was talking about.
Do you need an easy but functional dashboard?
Have you been dreaming of stable communication with the clients and enjoying their growing?
Or have you been wondering which browser is the most popular and convenient among your clients?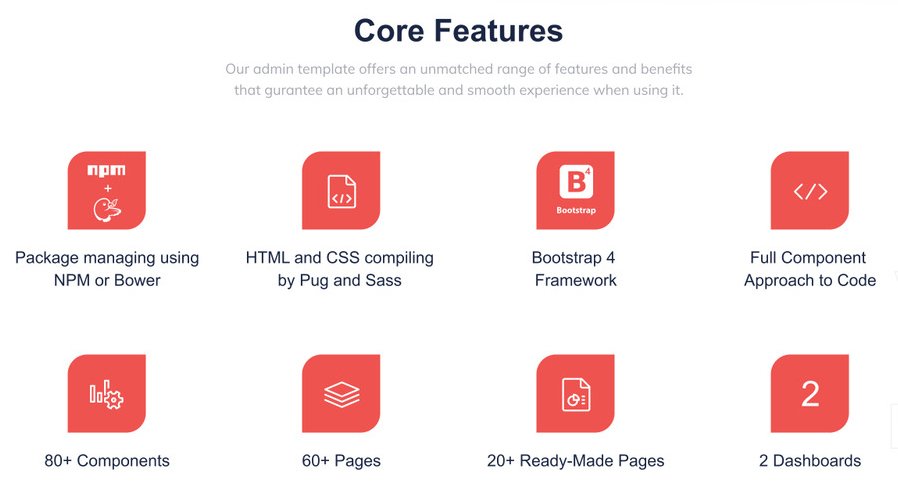 All of these questions are about IoDashboard, let's dive in. And who knows, maybe this is an HTML5 dashboard template of your dreams. Here are core features that will help you to beef up knowledge about the template before your personal trying.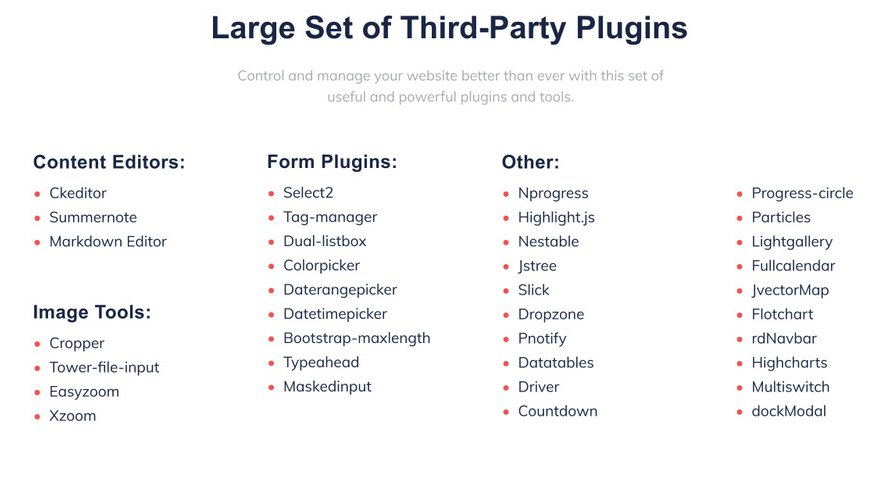 Choose your favorite dashboard style. This user-friendly template comes with 2 shining dashboards.
Don't you love various pages? More pages, more variants for choosing. The IoDashboard contains 60+ pages, and 20 of them are ready-made. Just look, test and enjoy!
Full component approach to code. Now the reliance of your work is much higher.
Bootstrap 4 framework.
Full set of third-party plugins (Content Editors, Image Tools, Form Plugins, other powerful and useful add-ons).
Don't be afraid to use E-Commerce with this admin template. Be sure you will know about all the incomes and even more.
The IoDashboard will not leave you without any good impressions. Zemez team worked hard to create such a professional and reliable product.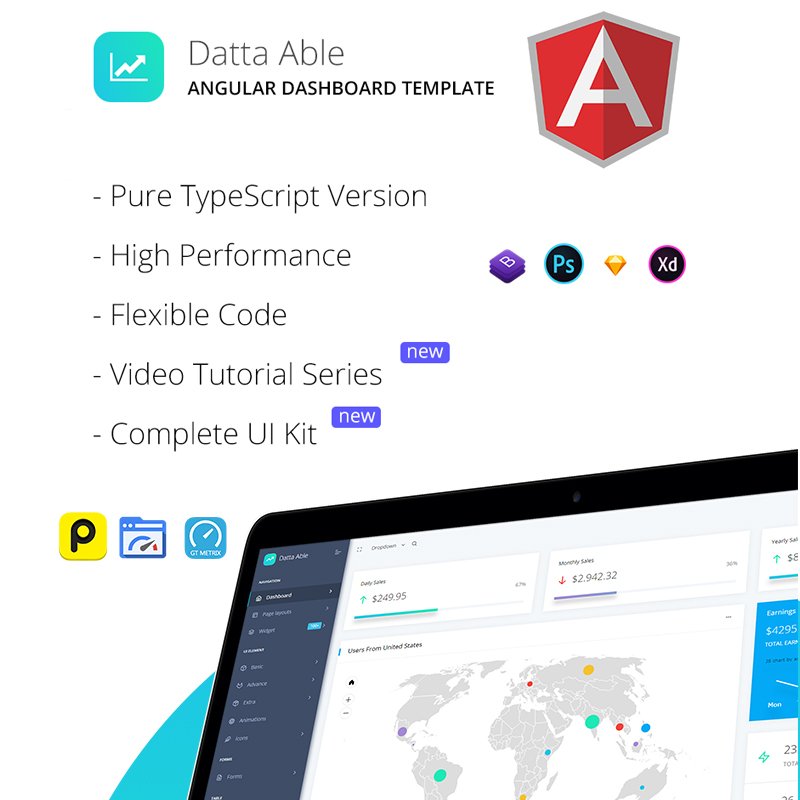 The latest technologies are extremely important in modern life. Web development is progressing every day and it is highly important to be on the top. Each developer team tries to create something new and embed the latest update inside of the product.
Datta Able Angular 7 Admin Template is extremely modern as there are such forcefull technologies as Bootstrap 4 and Angular 7+. These top most used frameworks nowadays and both of them have inserted inside this pretty admin template.
Also, there are Angular 7 materials to read and be aware of.
So, it is time to see the main advantages of this template.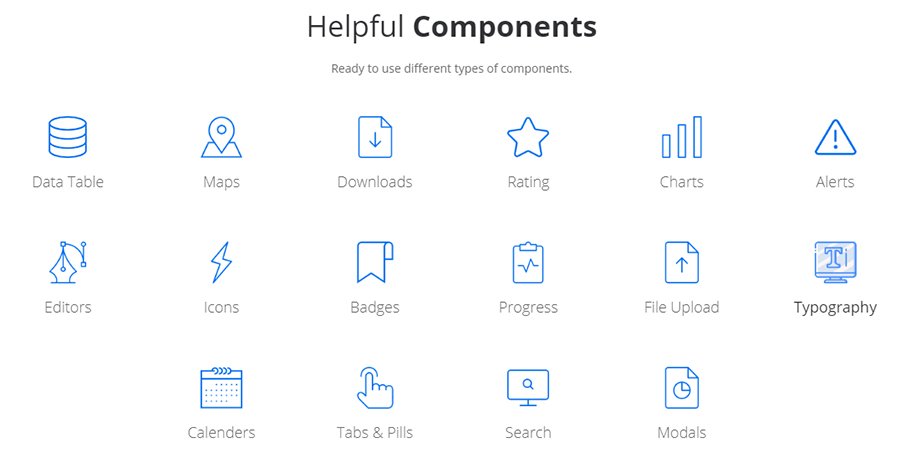 1000+ UI elements. Yes, more than one thousand and this is a truth. Datta Able contains all the elements and even more
70+ third-party plugins are as well integrated. These are different tools of Content Editors, Image Tools, Form Plugins, other powerful and useful add-ons
5+ web applications such as a gallery, task, to-do, calendar and other
150 widgets that are already designed and ready to be involved in your projects
Charts are highly important to use. They show complicated ideas in a simple way, so use it in full. Because there are more than 40 Charts.
Different demos. It comes with some types of demo version and each of them will be in the purchase package.
As you understand Datta Able includes a variety of surprises. You need just to try it yourself.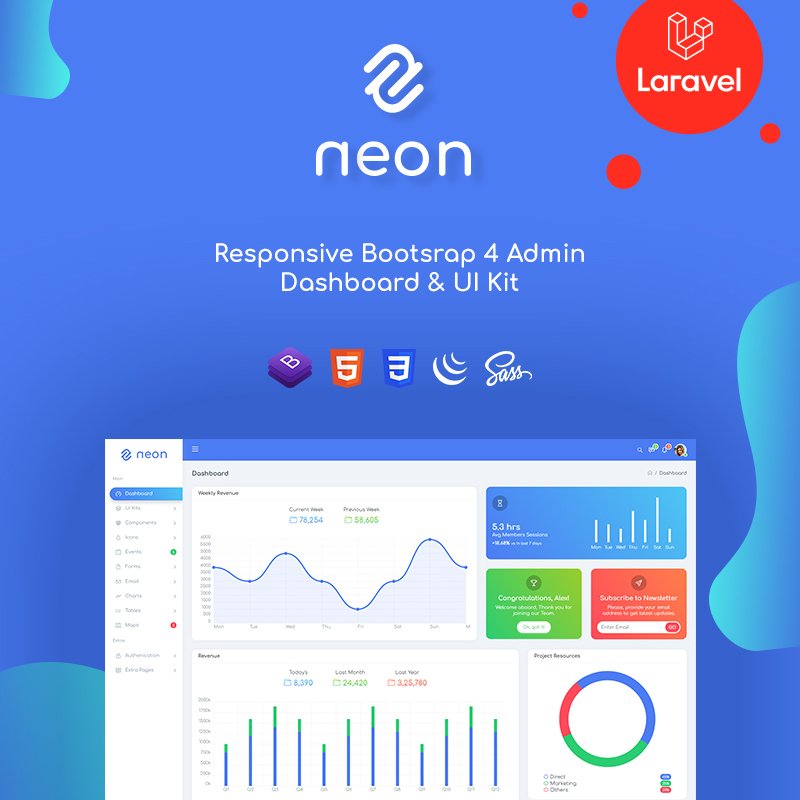 What is the key point in the admin dashboard HTML template for you? It should be fast, eye-catching, simple in using and full of top-notch features. You must admit that these criteria are the first thing you are thinking about while choosing the admin template.
Neon is one more brilliant example of an HTML dashboard template and now it will try to prove it by showing its strong points.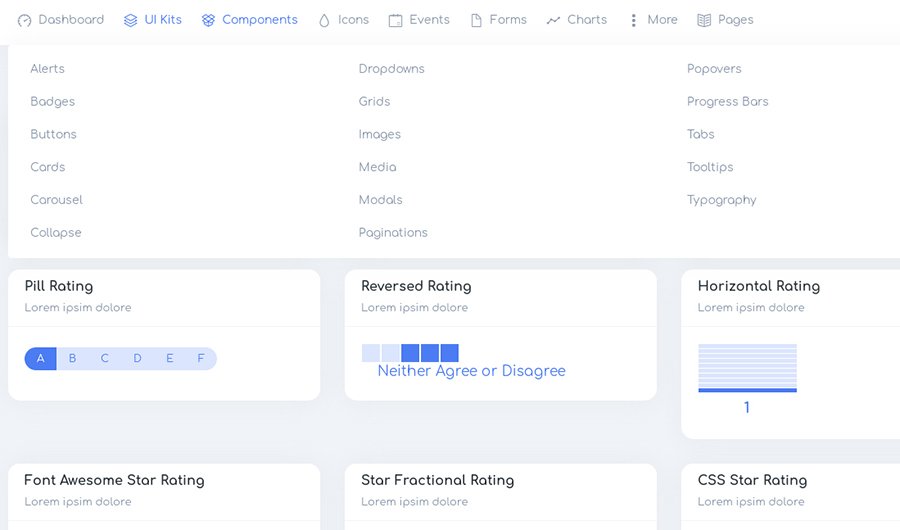 The developers of Neon built it with the latest technologies for your comfortable and marvellous work. With the help of Bootstrap 4, Laravel, PHP, HTML5, CSS3 and JQuery this template is absolutely ready to be in service. Be sure that choosing Neon you can surely rely on its stable work.
As for the other pack of strengthens, let's look at the most significant and impressive.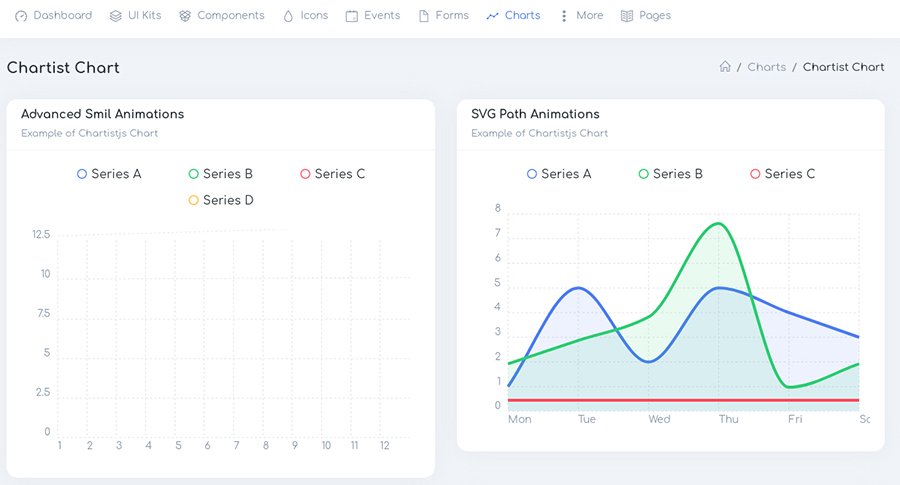 Plugins are never too much (almost never), and Neon creators knew that. For this reason, there you can find a lot of useful and powerful plugins which make a good effect on the dashboard performance.
Are you fond of Icons? If yes, you will be satisfied with the fact that there are more than 7 sets of modern Icons. To any taste and design, try it!
80+ inner pages for any situation.
Horizontal vs Vertical. Your dashboard, your rules. Choose the most appropriate layout and enjoy it.
Sass supported.
Easy customization to save your time and make you relax. Now you have a few minutes to make a cup of coffee instead of nervous in front of the screen.
Neon has a lot to say and show, and it is waiting for you living a demo.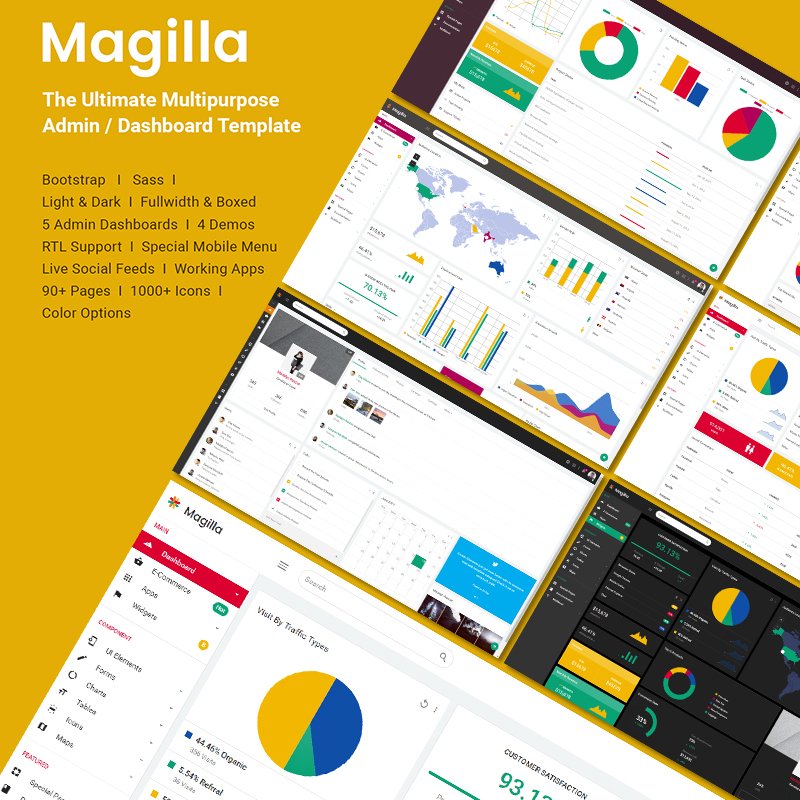 The ideal HTML5 Bootstrap admin templates consist of a great variety of statistics, infographics which make your life easier. Also, this must be a full complex of unbelievable features and impeccable performance.
Magilla is exactly this type of admin dashboard. It will easily control customer satisfaction, visitors' traffic, any types of add. Yeah, this beauty can do a lot.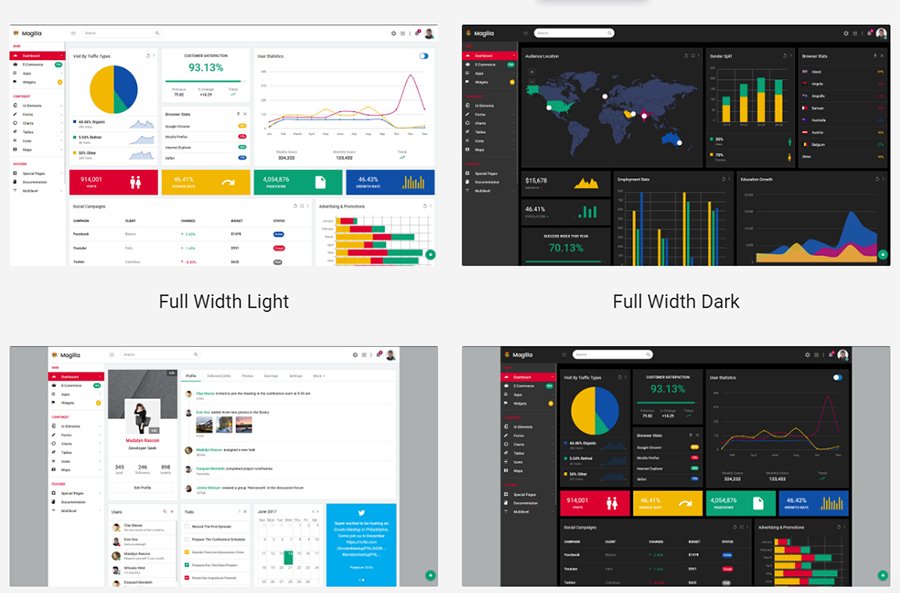 So, let's check it out and look inside of the Magilla. There are tones of exceptional features which you should know about.
Several types of demos. Light or dark? Full Width or boxed? Which one is most suitable for you?
E-Commerce is now a leader on the web, so in the Magilla dashboard template, you will find loads of pages for E-commerce.
It includes Mega Menu, which you can customize as you want, and special Mobile Menu for your favorite gadget.
Bootstrap4, Sass, HTML5, CSS3, and JQuery – all of these guarantee a perfect process of working to you and your clients.
500+ UI elements such as charts, multiple buttons, inputs and so on.
Enjoy 90+ pages with 2000+ Icons. What a marvelous combination!
Apps are various inside: Mail App with Inbox Layout, Detail Email, Contacts App with Cards & List Option, Chat App and many others.
Try this responsive and reliable dashboard template and safety with your website templates and other projects.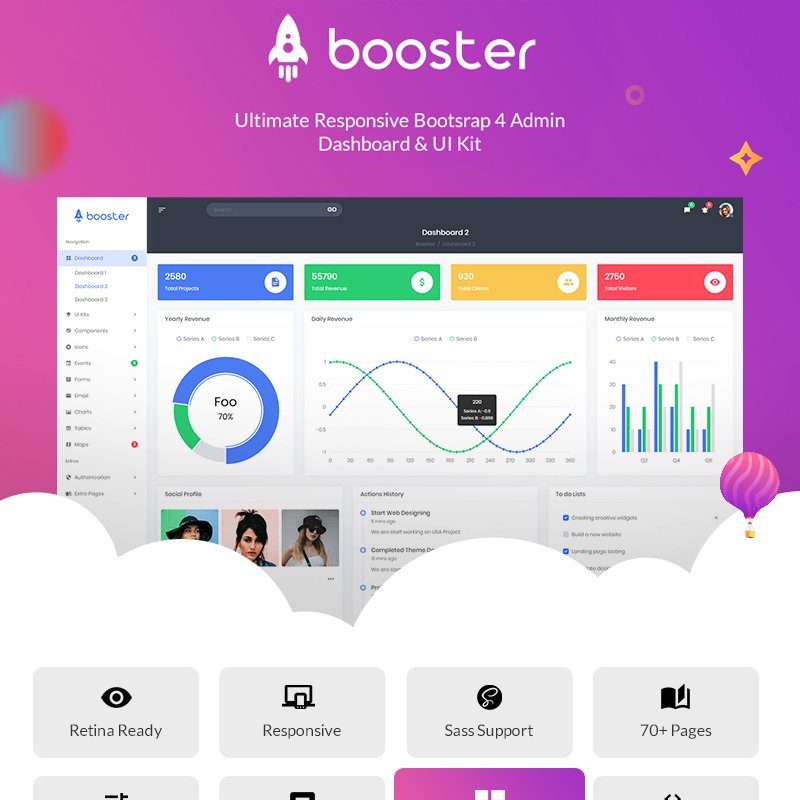 Multipurpose templates were in Vogue. Today is no exception. It makes life easier and more pleasant when you can purchase some products and apply them to different spheres. So, the last attractive and simple dashboard HTML template will impress you, too.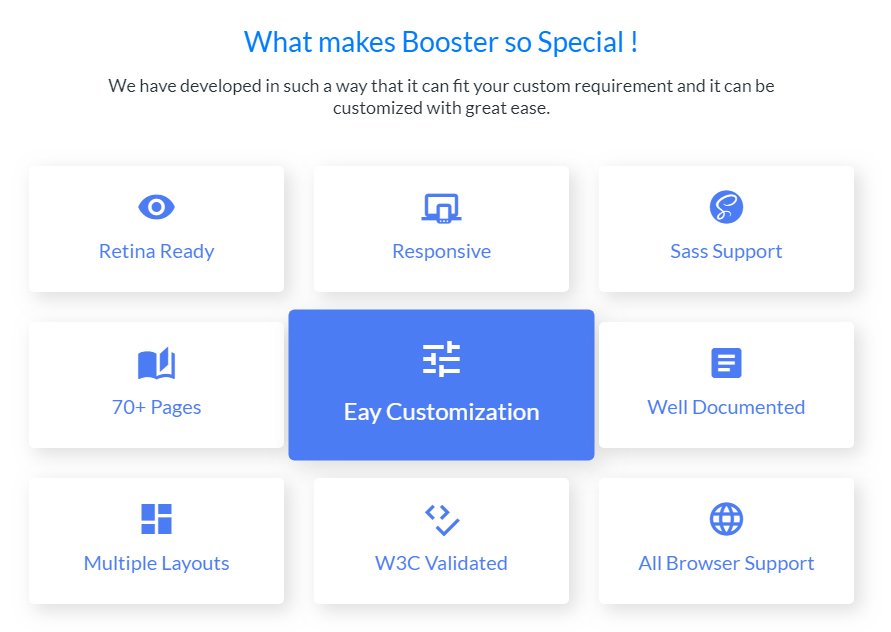 Called it Booster and it differs with it developing in such a way that it can fit your custom requirement and it can be customized with excellent ease. Be ready to come closer and make some notes of this great HTML dashboard template.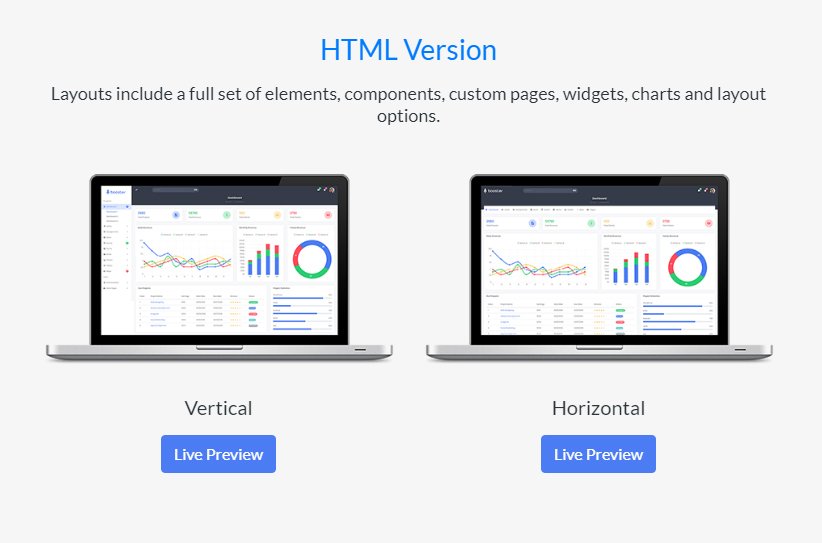 To take care of your eyes is simple with Booster. It is Retina ready, looks crystal clear will be unique and will provide the most enjoyable user experience.
Sass support will be always with you. This is CSS preprocessor, which helps to decrease repetition with CSS and saves your time a lot.
Pages to any taste. 70+ is a pages' quantity and can delete or choose only the pages you really need.
Browsers compatibility is extremely needful. All of us are unique and use various browsers. So, your clients don't have to worry about it. Booster supports all browsers.
It is powered by Bootstrap4, the latest Laravel. This point must make you more confident in the future of this template.
To your attention, there are lots of demos, which include all the features we were discussing. That is why pick yours and enjoy it.
Final words
10 HTML5 Bootstrap admin templates pass away and now you are full of strong knowledge and set teeth for the best dashboard. This article was focused on the outstanding features and cool design of the templates to make you understand them fully.
I hope you had fun and found something yours. Make your projects brilliant with admin dashboard templates.
Disclosure of Material Connection: Some of the links in the post above are "affiliate links." This means if you click on the link and purchase the item, we will receive an affiliate commission. Regardless, we only recommend products or services we use personally and believe will add value to our readers.