Nowadays, it's not easy to choose a way to build a website. You can:
hire a specialist;
choose a CMS;
use one of the programming languages.
Each option has pros and cons. In this article, I will focus on the HTML CSS website templates. HTML was at the source of the website building. Even now, CMS websites go through several stages before taking the usual form:
The server executes a PHP website's version to put together an HTML version of the website.
It reaches the database to insert content into an HTML website.
It doesn't matter if you use WordPress or HTML. It all comes to HTML on the frontend.
So, despite a wide choice of ways to create a website, HTML doesn't lean back. It still has benefits for web developers. To save time, you can use a ready-made template. A template from the reliable source already has a clean code. It means that you:
have no or few problems with a code;
can change the code and the look of a website fast.
Below, you can check out 11 top web templates. They are good for creating an online store, portfolio, personal or business website. There are multipurpose options. Before, I offer you to look at the pros of the HTML website.
So, let's start.
Advantages of Website Template HTML and CSS
There are pros of both using programming languages and CMS to build a website. First, it's a matter of tastes and skills. Not everyone can code. In this case, the drag-and-drop nature of CMS comes in handy. Still, if you know HTML, you can face the following pros.
HTML websites are SEO-friendly
Every browser can interpret HTML code. Unlike the Flash websites, for instance, that need a Flash Player. If the user's browser doesn't have it, the website won't work. It doesn't mean that Flash websites are evil. It all comes to the question of your needs. Flash websites can handle a big number of pictures and videos. In this case, the HTML website might not work so good.
Furthermore, an HTML website is lightweight. It means that it will load faster. It's good for SEO optimization. Yes, it's possible to optimize a CMS website for speed too. Still, you will use extra plugins. Why do it if you can avoid those extra steps?
HTML websites are easy to edit
Yes, there are no admin panels with dozens of options. For some people, it might be a disadvantage. For me, it's easier and faster to use Notepad to edit pages this way. All you need to do to make changes is to use tags.
If you know how to code, it shouldn't be a big deal.
No need to worry about updates
It's important to keep a track of the CMS theme updates. I don't mention the perks the updated versions contain. The question of security is more important. A big number of hacking attacks happens because of old themes and plugins.
With HTML, you don't have to worry. You don't have updates itself.
Besides, HTML has all tags for adding and organizing content. You can add graphics, multimedia, tables, hyperlinks, etc. Such elements help improve UX.
That was a tiny part of the HTML website pros. If you still want to build one, think about using one of the HTML5 web templates.
Lintense – All-in-one Landing Page Template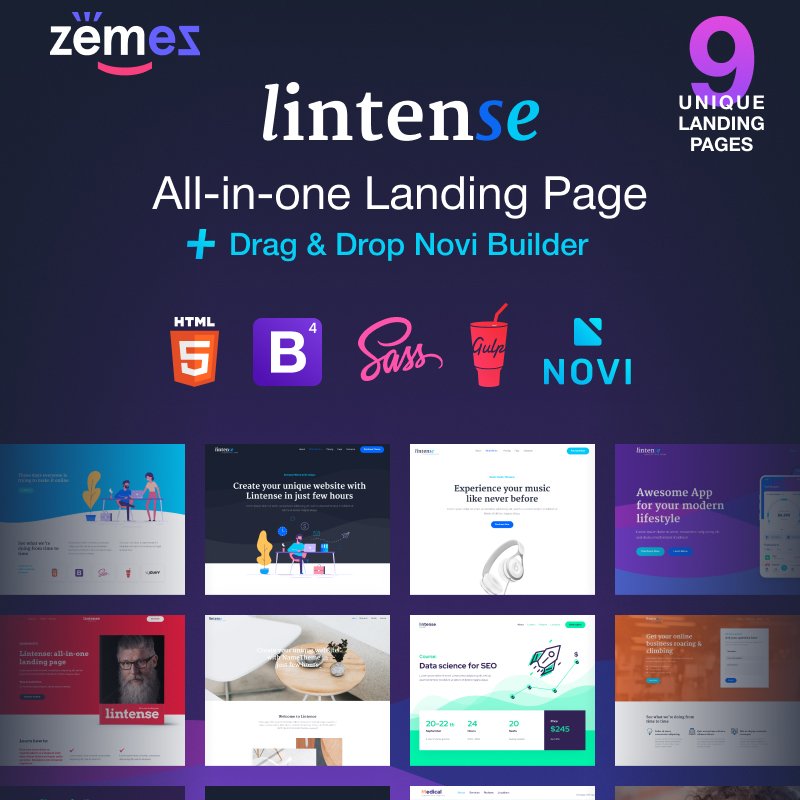 Lintense contains 9 ready-made landing page themes. There are skins for several niches:
corporate agency;
SEO company;
digital agency;
medicine.
You can create one product, mobile app, eBook, or course presentation. Lintense has instruments for promotion. It focuses on SEO. Thus, your presentation will be visible to the audience.
Plus, it's responsive. It means that it will look the same on all devices. It also helps the website be on the top of the search results.
You will use the Novi Builder to create a page. This HTML page builder is one of the easiest to use. You can both access the source code or use ready-made blocks.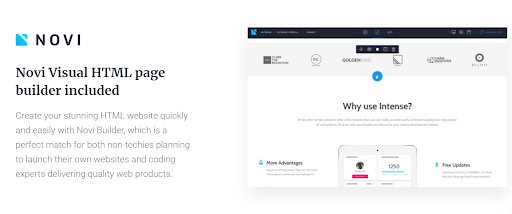 It has useful plugins and visual elements. Novi Builder offers free themes and plugins.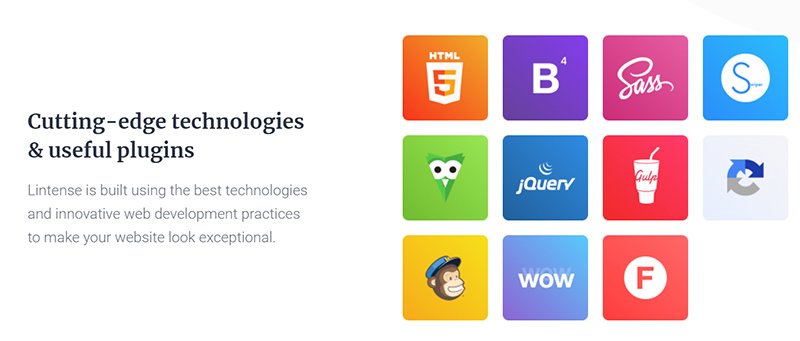 So, creating pages is fast and easy.
Besides, Lintense has:
Visual Editor;
4 Gallery scripts;
2 Web Forms;
HTML plus JS animation;
Parallax;
Back to Top button;
24/7 support.
The vendor releases updates that have new skins and features. The clinic skin is coming soon.
Multipurpose Website Template Intense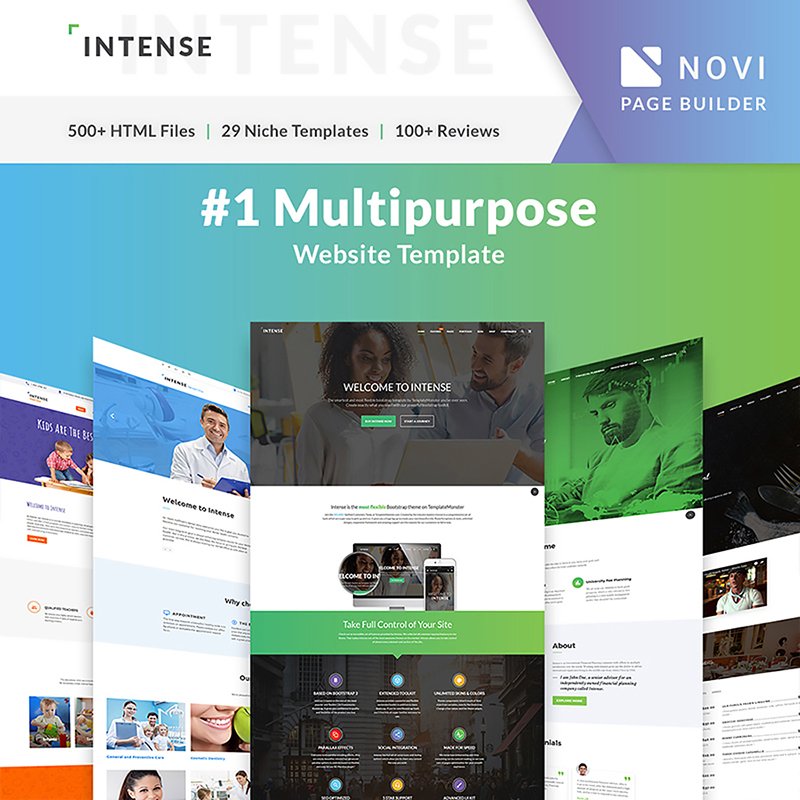 This bestseller suits any kind of website. It has 500+ HTML ready to use pages:
50+ one-page and multipurpose templates;
30+ blog templates;
20+ portfolio templates;
10+ eCommerce shop templates.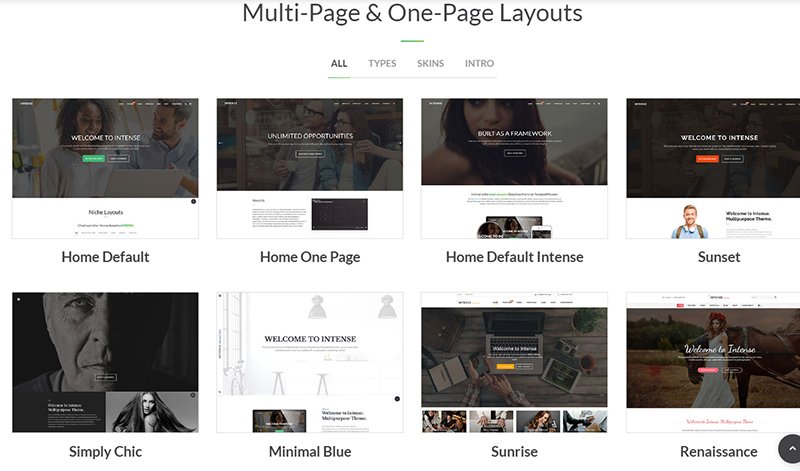 Besides, it has a toolkit for web design. Among the major features are:
200+ reusable elements;
15+ sliders with 20 templates;
15+ header & footer styles;
2000+ font icons;
300+ PSD files;
Ajax forms;
sidebar widgets;
Responsive slider;
Touch Swipe photo gallery;
unlimited color options;
sticky menus;
Revolution slider with 15+ effects;
hover effects.
There are even more features: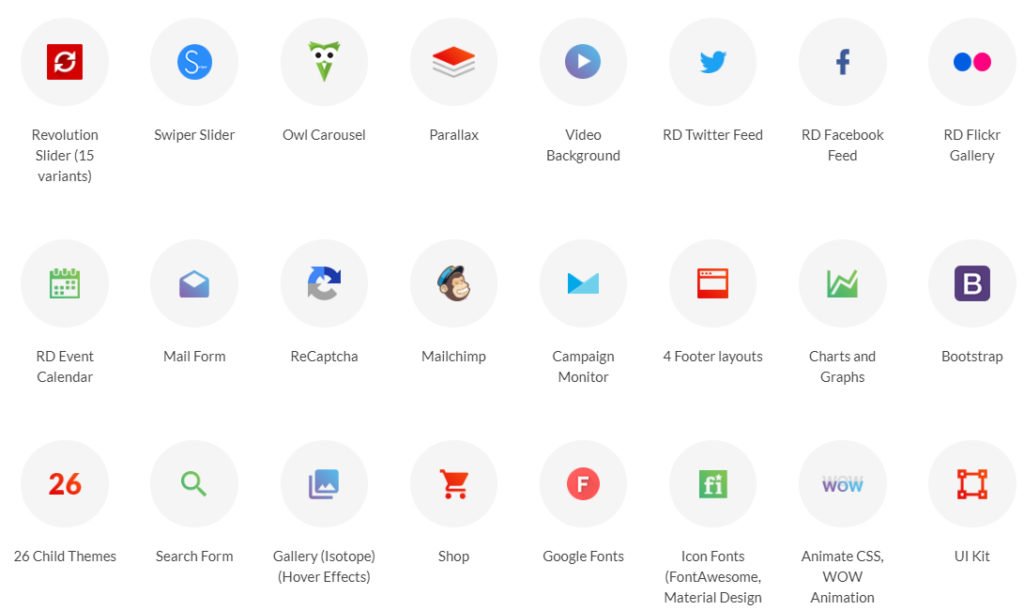 In total, Intense has 29 niche demos. This multipurpose template will suit:
any kind of business;
medicine;
any type of a shop;
presentation of any product;
any kind of landing page;
blog.
Intense is compatible with Novi Builder. It makes the theme's functionality even larger.
After a buy, you get lifetime updates.
Spinecare – Medical Website Template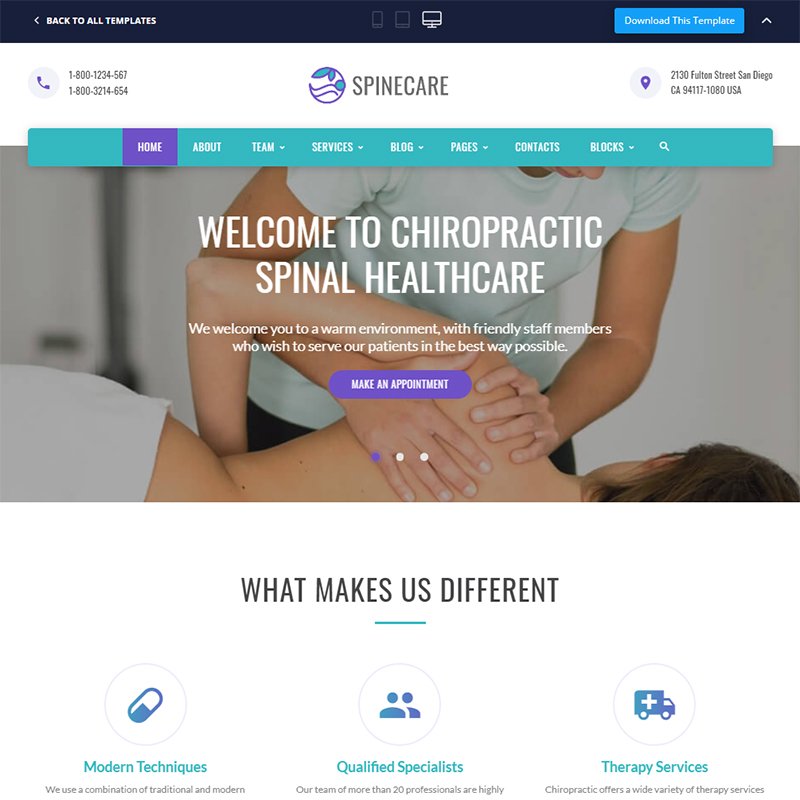 Spinecare suits the website for the healthcare industry. It's perfect if you want to present the massage services. It has 25+ HTML ready-made pages. With Novi Builder, you will create pages fast. You can either dive into code or use pre-built elements.
Besides, the template has:
Visual Content Editor;
CSS3 animations and transitions;
3 Blog layouts;
Contact, Newsletter, and Subscription forms;
Gallery layouts;
header and footer styles;
many UI elements and ready-made blocks.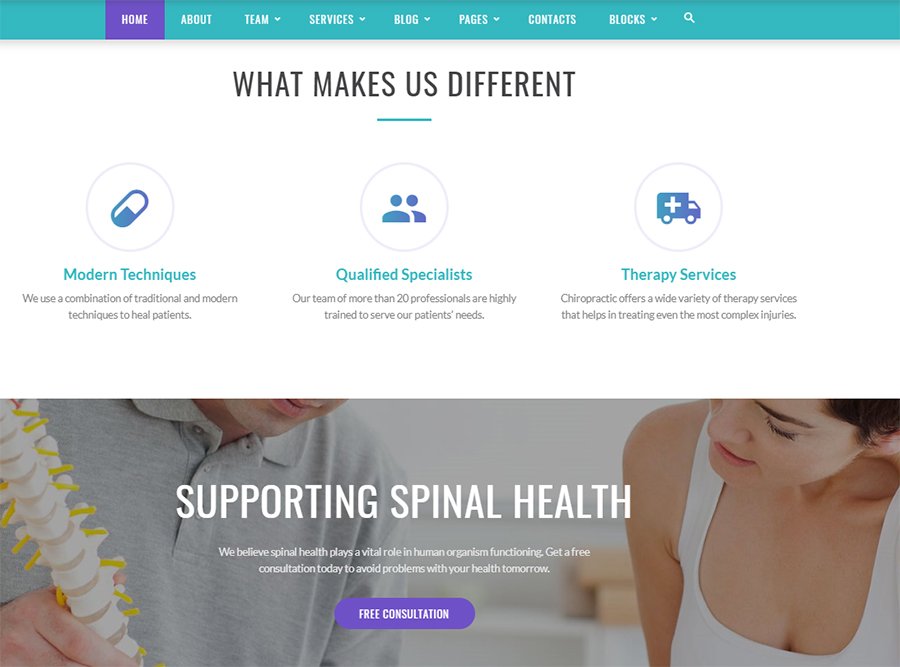 The template goes with free pictures on medical topics.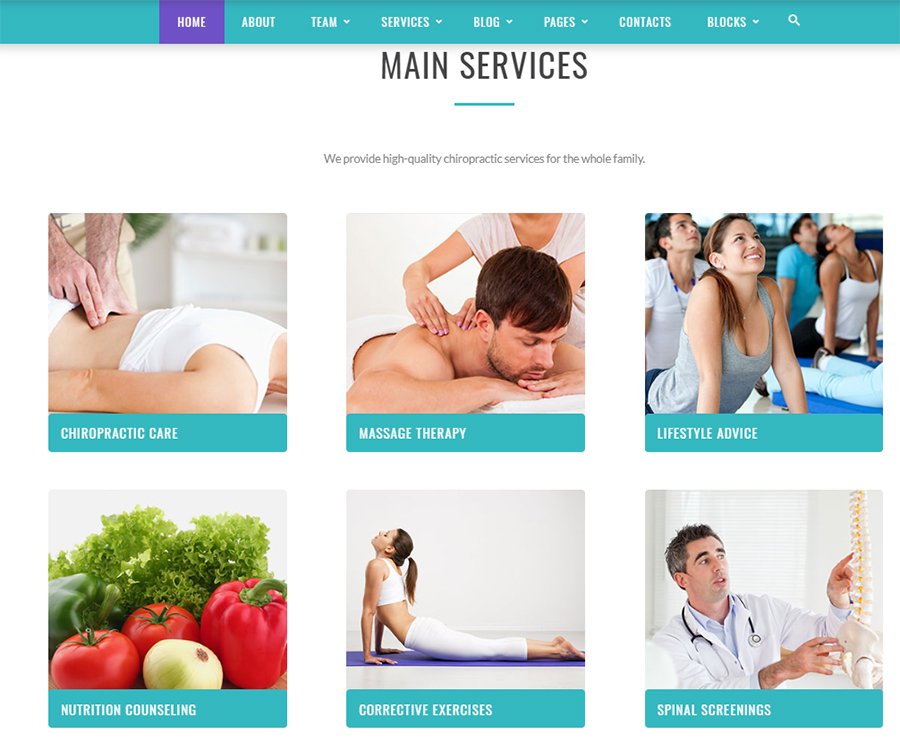 Brave Responsive Multipurpose Website Template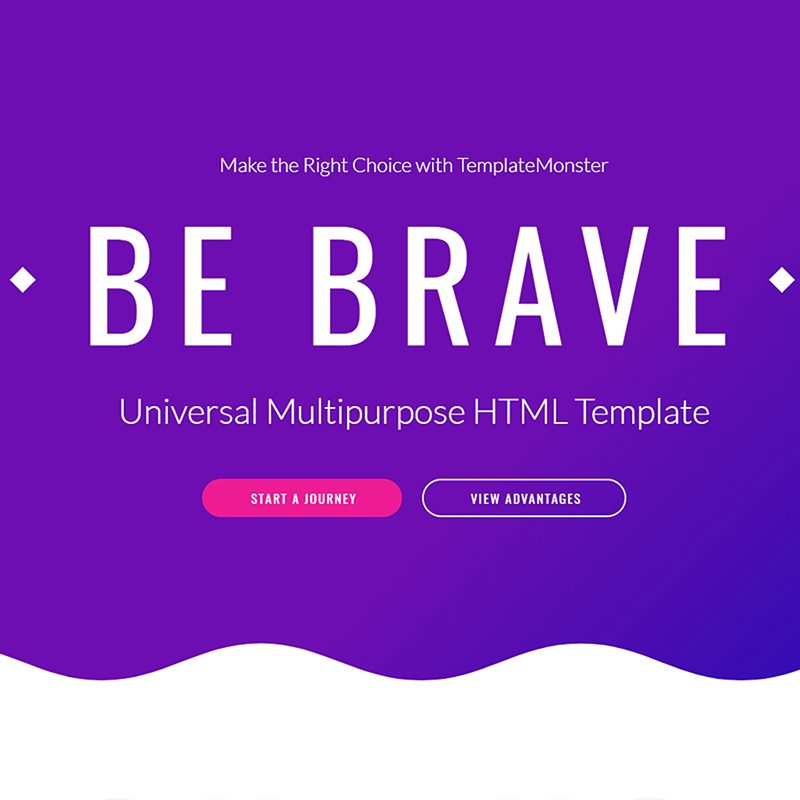 Brave comes with 11 niche themes that are suitable for:
IT company;
environmental project;
trucking company;
SEO company;
private airlines;
taxi service;
maritime company;
museum;
auction;
theater;
movies.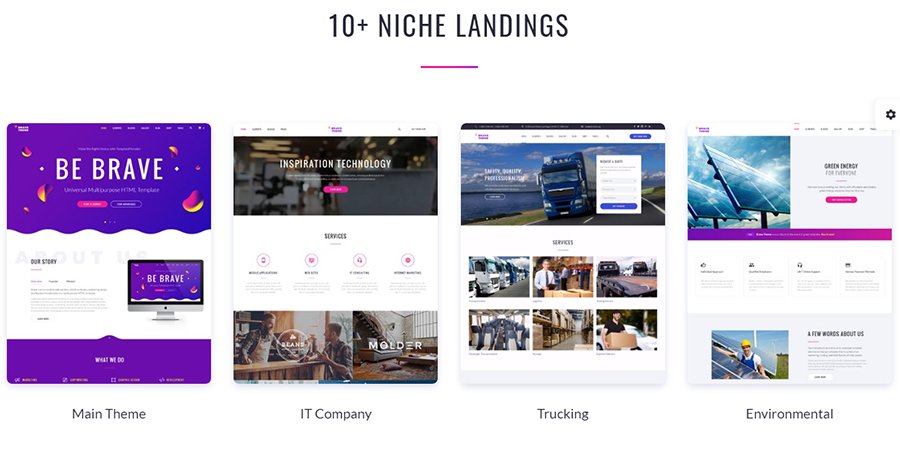 Besides, the theme is editable. For this purpose, you have:
Novie Builder;
Visual Page Builder;
10+ navigation and footer styles;
150+ of pre-made elements and blocks;
Parallax effect;
Blog and Gallery layouts;
eCommerce templates;
social and visual widgets;
working Ajax forms via PHP;
Background Video.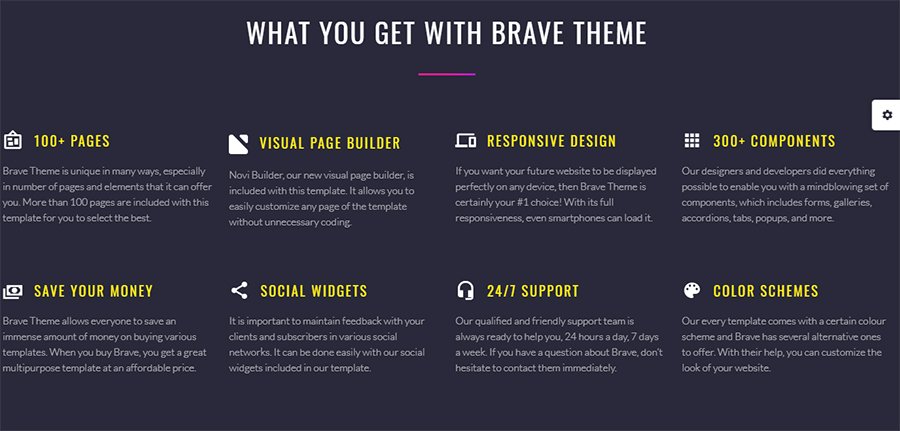 In total, Brave comes with 100+ HTML ready to use pages. You can change the source code. Also, you can just fill the theme with content. Web developers will feel comfortable working with Brave. It has a flexible grid system, universal scripts. It has sources on PUG and SCSS processors.
The theme comes with 24/7 support. It has all images and PSD files from the demo.
Massive – StartUp Company Website Template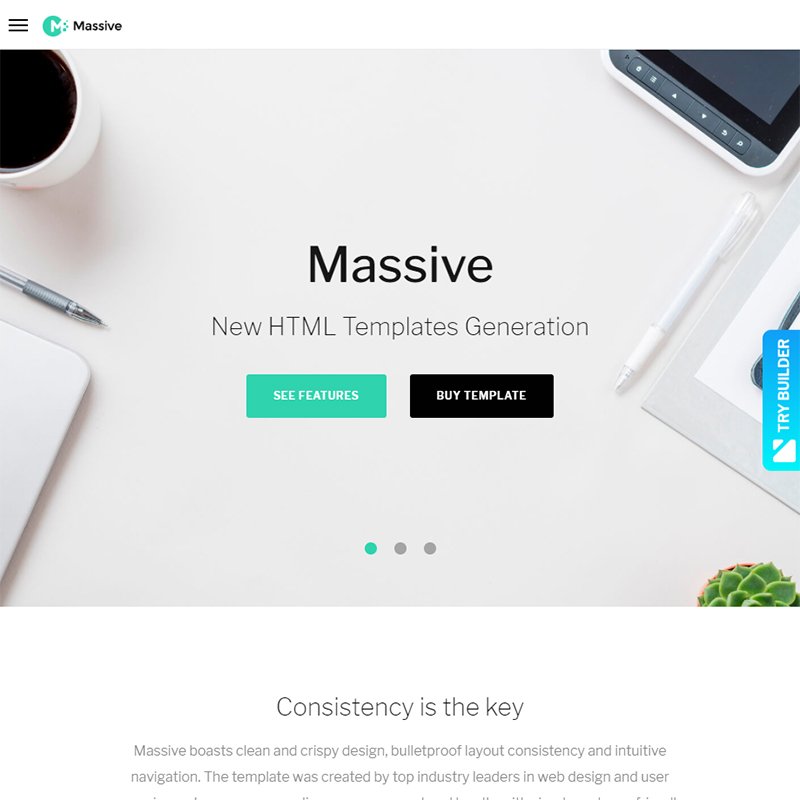 Massive is another multipurpose solution. You can edit it according to your project. For editing, it has:
several page designs;
4 blog layouts;
Novi Builder;
headers, footers, content boxes;
Gallery layouts;
working forms;
set of sliders;
Parallax sections;
Retina homepage.
Besides, it has pixel-perfect typography. If you focus on presenting content, then this feature comes in handy.
Massive has a Bootstrap framework. Lots of things are easier with frameworks. For instance, you shouldn't care much about the pixel width. The framework takes care of the sidebar standards. So, the sidebars will adjust to the widgets or images.
Of course, the framework allows you not diving into code. No need to write from scratch. Moreover, it will remember all the changes you did on each page. No need to say that it works well with all of the browsers.
Its main pro lies in saving the time.
Real Estate Multipurpose HTML Template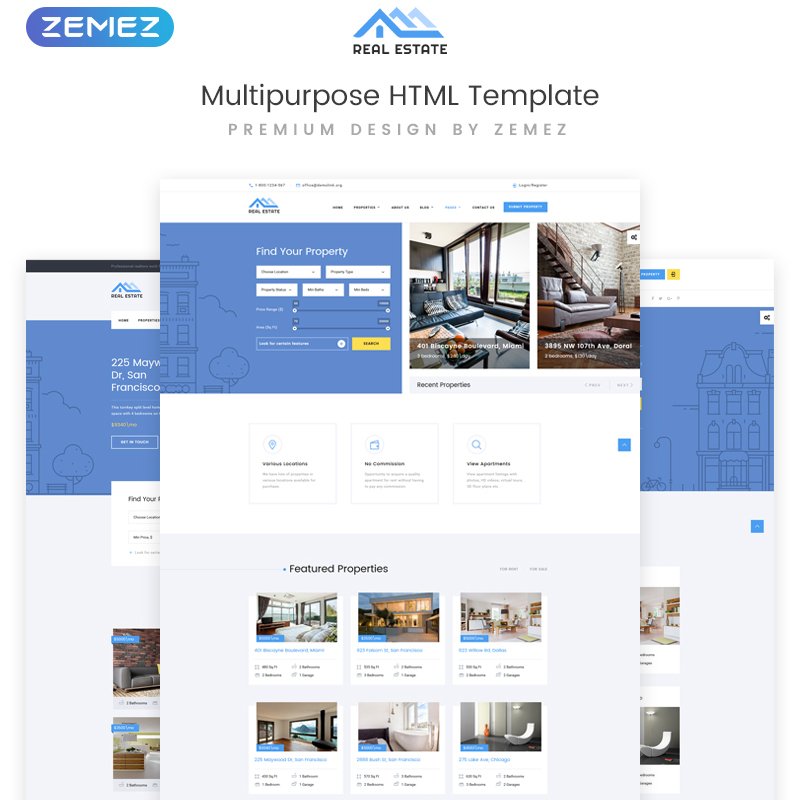 Planning to build a real estate website? Then, this multipurpose HTML template can be the right choice. It has plenty of tools for a user-friendly layout and high performance. You can create tables to present the real estate. You can add forms to get feedback from the clients. It's possible to add sliders with trademarks.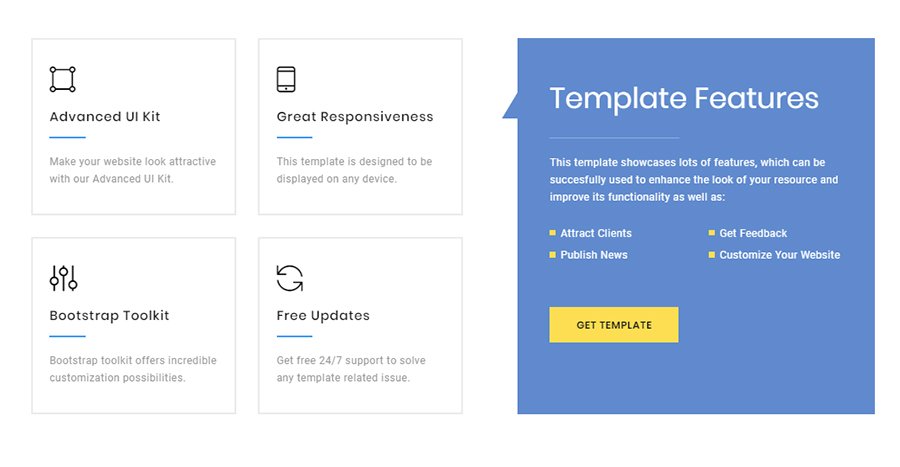 Besides, the template has:
30+ HTML pages;
header and footer layouts;
Megafooter;
Blog and Gallery layouts;
a set of UI elements and blocks;
3 Home Page layouts;
fonts and colors.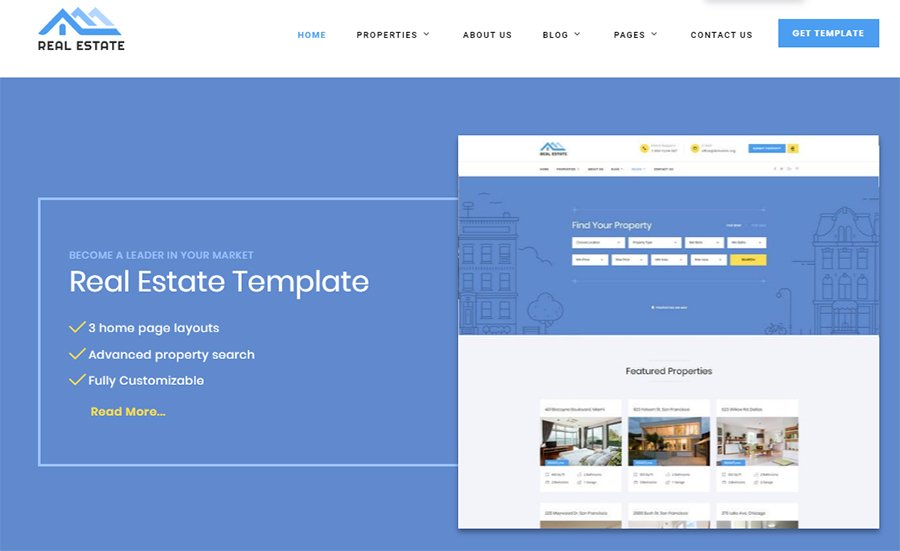 It also has PSD files.
Infradust – Engineering Website Templates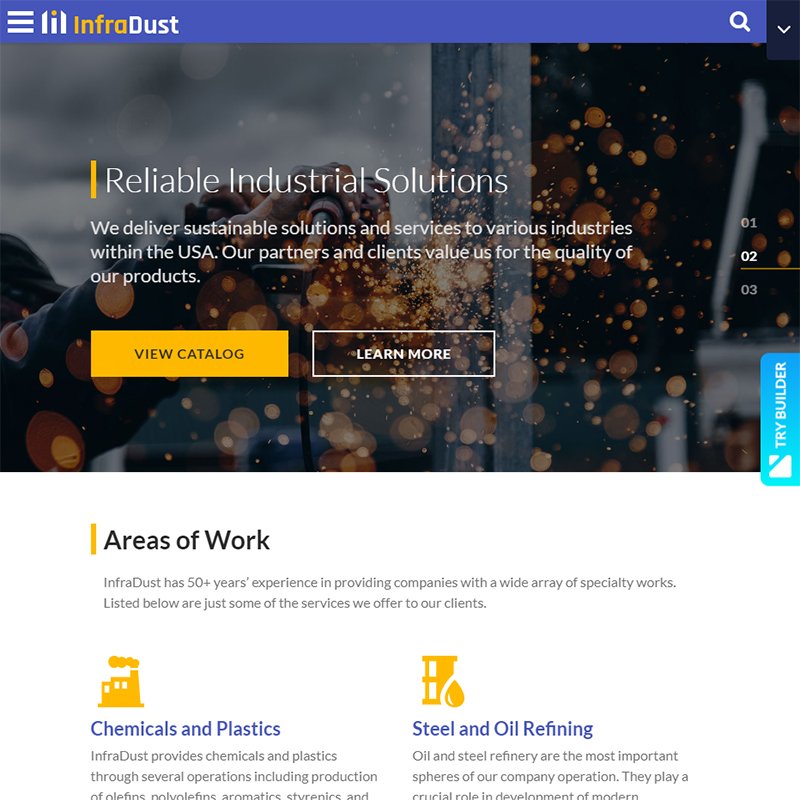 Websites for industrial companies can look good. InfraDust proves this idea. It has plenty of editable pages. You can create such pages as:
Home;
About Us;
Careers;
Mission;
Social Policy;
Contact Us.
You can use the Visual Content Editor. It's possible to change the code. The template has clean HTML, SCSS, Pug, JS source files. It also has:
7 Blog layouts + Blog Timeline;
Contact Form;
header and footer styles;
Grid, masonry, cobbles Gallery layouts;
a set of UI elements and blocks;
Google fonts;
CSS3 animation effects and transitions.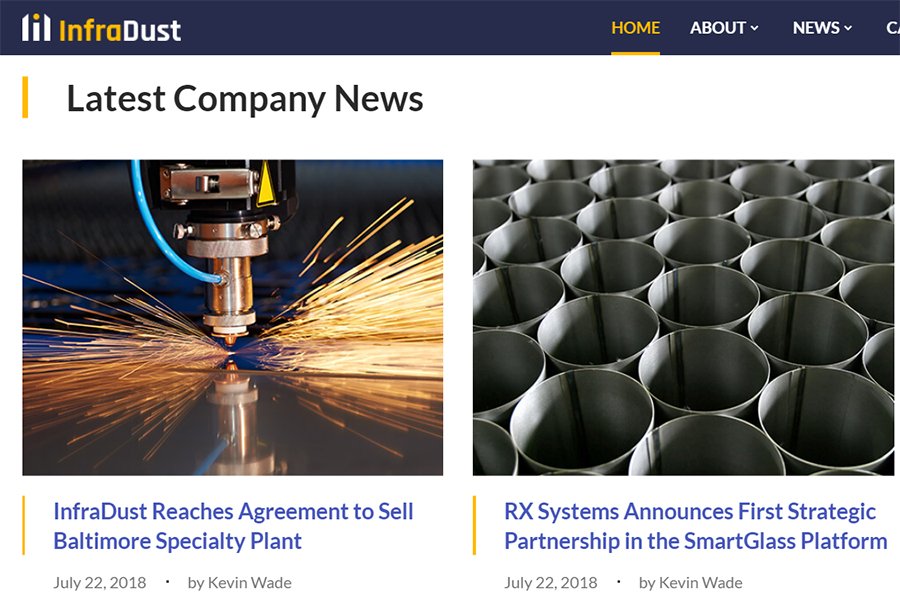 The layout is responsive and optimized toward search engines. The template has images from the demo.
Unit HTML5 Template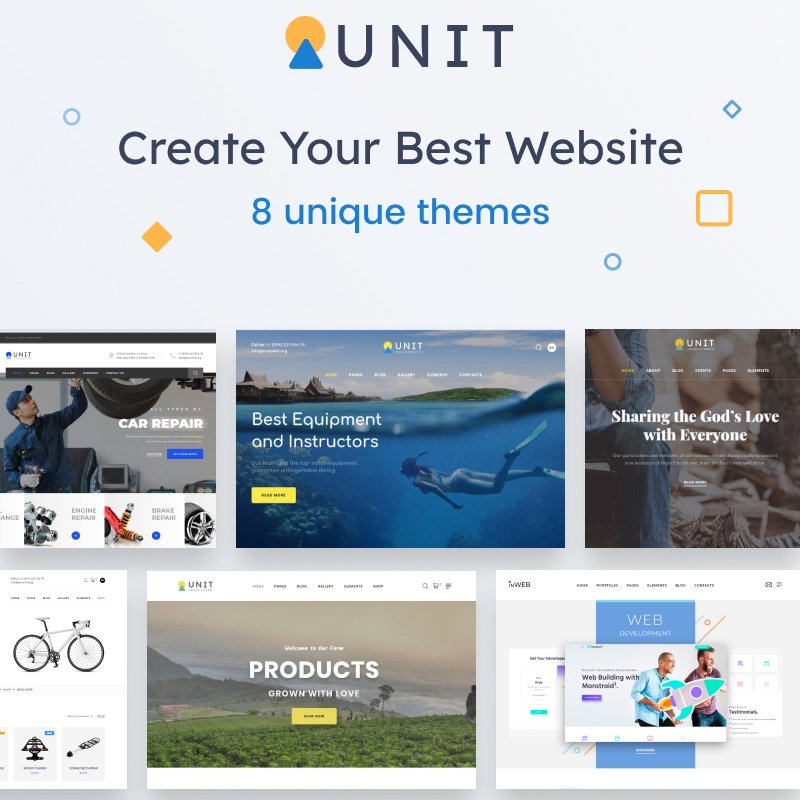 This web design HTML template suits such niches as:
car and bike repair company;
farm;
church;
marketing agency;
perfume shop;
diving;
event planner.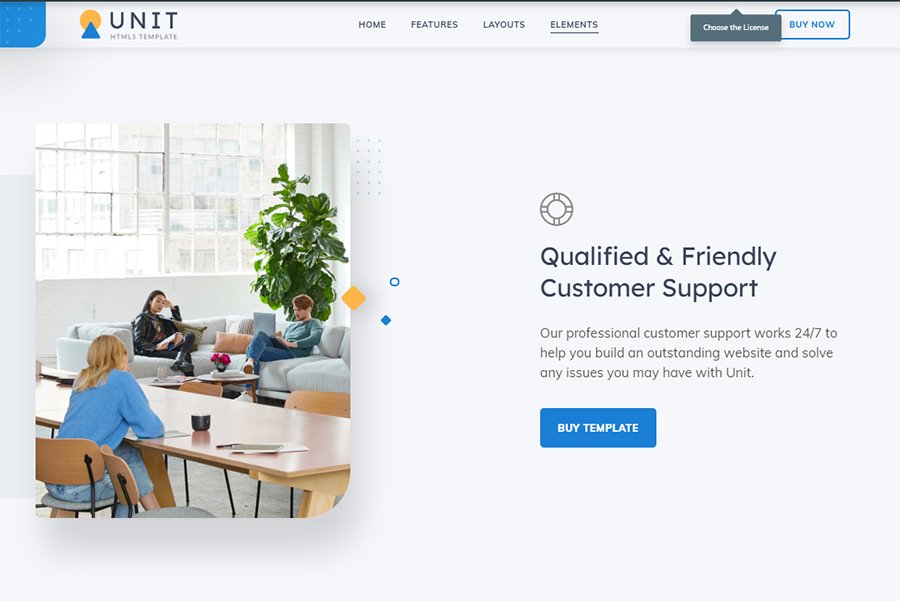 New micro-niche themes are coming soon. The template comes with plenty of pros:
tons of blocks and elements;
responsive design;
clean code;
regular updates.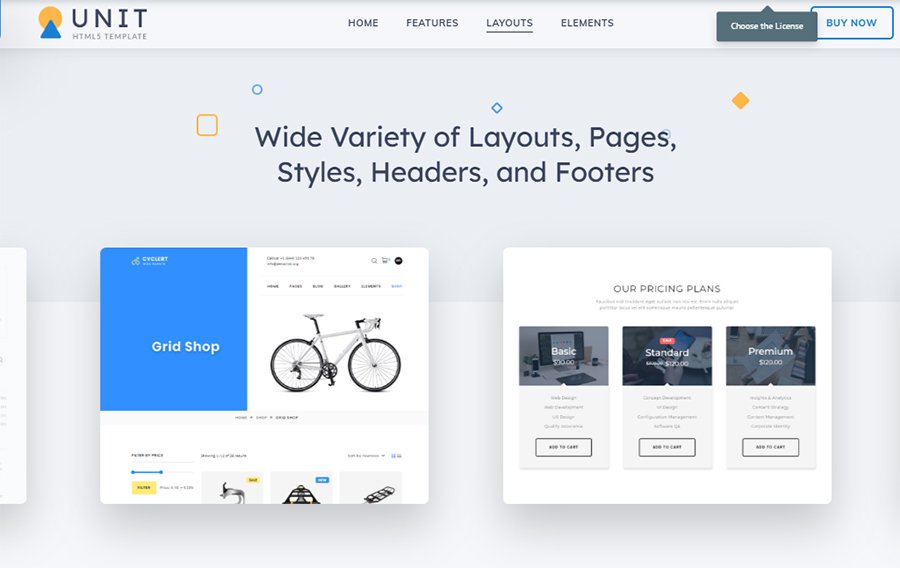 It has a variety of ready-made pages, header and footer styles. You can add plugins and elements to the pages. The template has:
Swiper Slider;
Call to Action button;
Blog and Portfolio layouts;
Shop pages;
pricing tables;
subscription forms;
contacts.
It goes with 24/7 support.
Fasteria – Fast Food Website Templates
This responsive template suits the fast-food restaurant website. Fasteria has:
a huge set of UI elements and blocks;
3 Blog layouts;
contact form;
Parallax effect;
Google Map;
Gallery layouts;
Newsletter and Subscription forms;
CSS3 animation effects and transitions.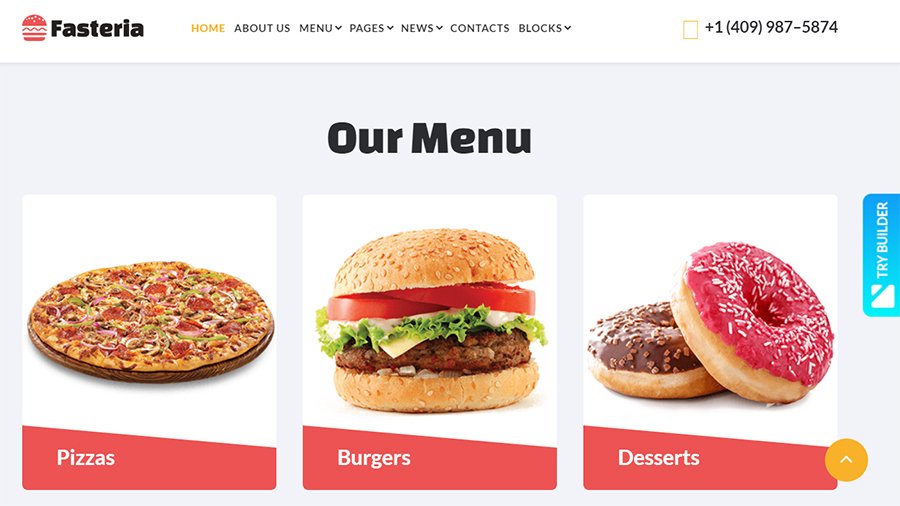 It uses a Bootstrap framework. Thus, it is 100% responsive. The developers optimized it toward search engines.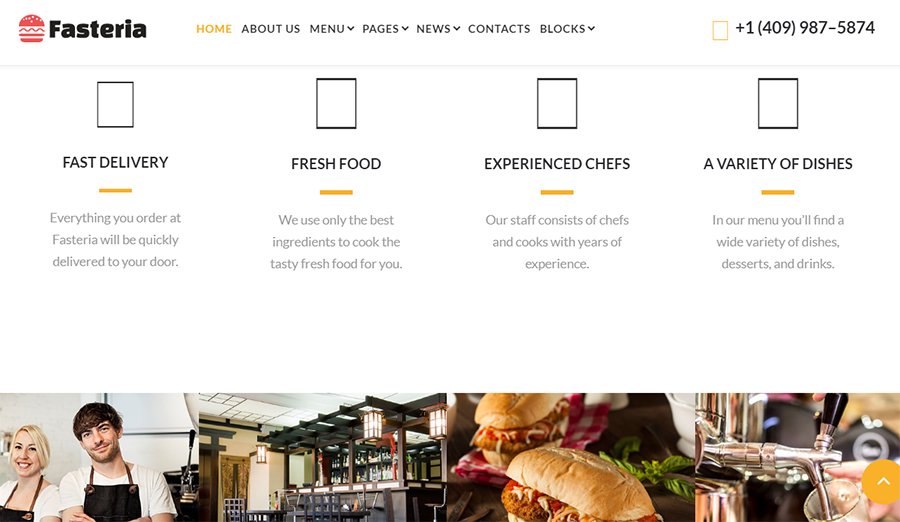 It's easy to organize content in blocks, add sliders, menus, sidebars.
The Future Multipurpose HTML5 Template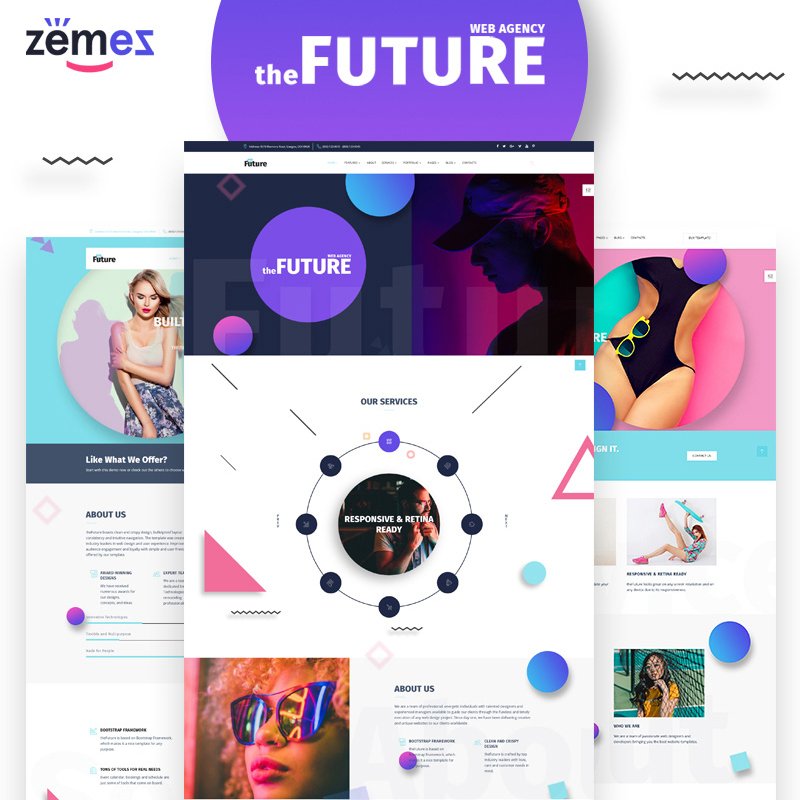 The Future is a universal solution for many business niches. It's editable and has a powerful toolkit:
Stick-to-top menu;
header and footer layouts;
Megafooter;
contact form;
400+ UI elements and blocks.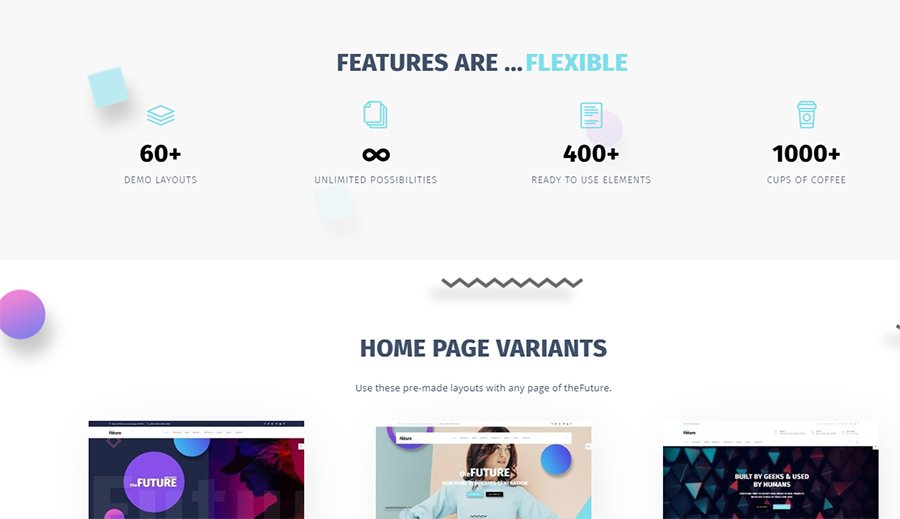 You can create a unique design of the website using:
Swiper Slider;
Owl Carousel;
Parallax;
Video background;
Mail form;
Search form;
Gallery layouts with Hover effect;
Google and Icon fonts.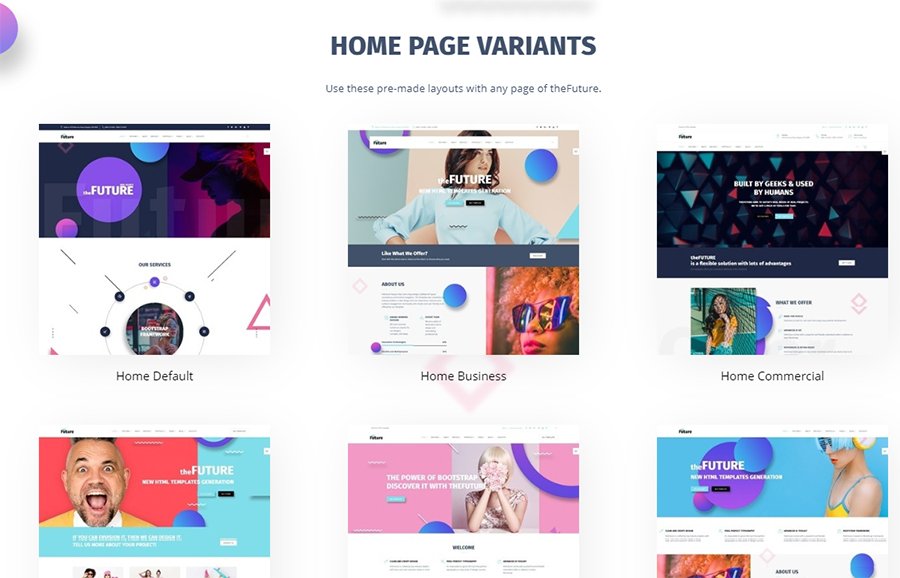 It has 60+ ready-made responsive free HTML pages.
PixLab – Software Company Website Templates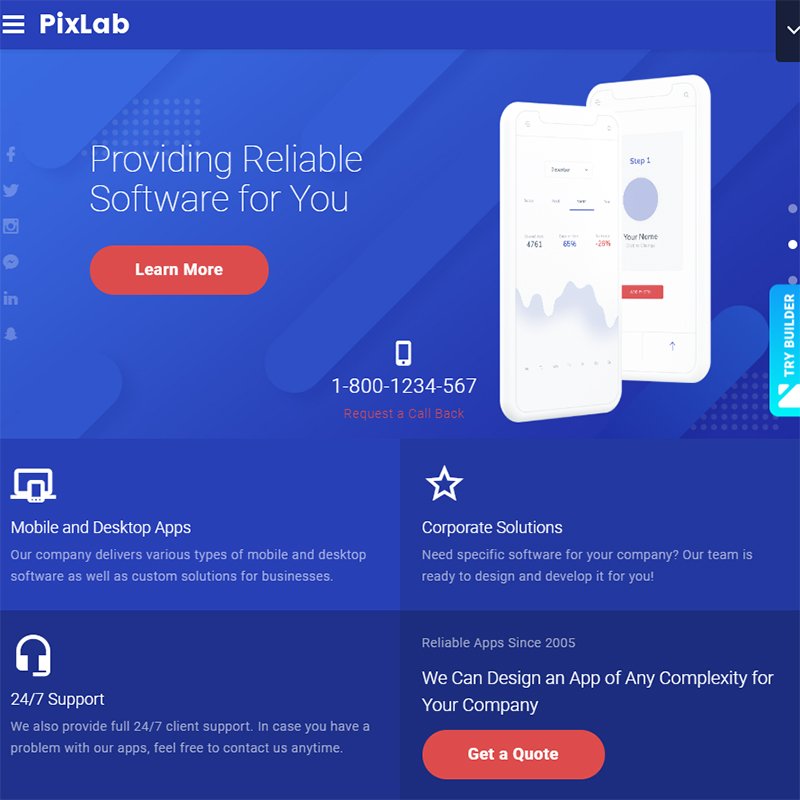 This multipurpose template suits the website of a software company. It has plenty of pages that you can change with the tools:
a rich UI kit;
layouts for Blog and Gallery (Grid, masonry, cobbles);
Google Map;
fonts;
Parallax;
Contact, Newsletter, Subscription forms;
header and footer styles.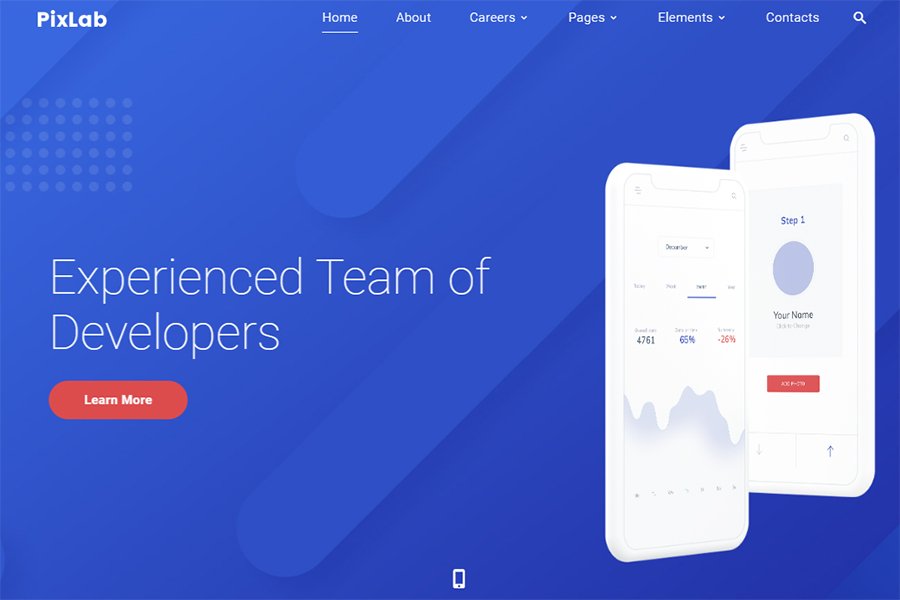 CSS3 animations and transitions.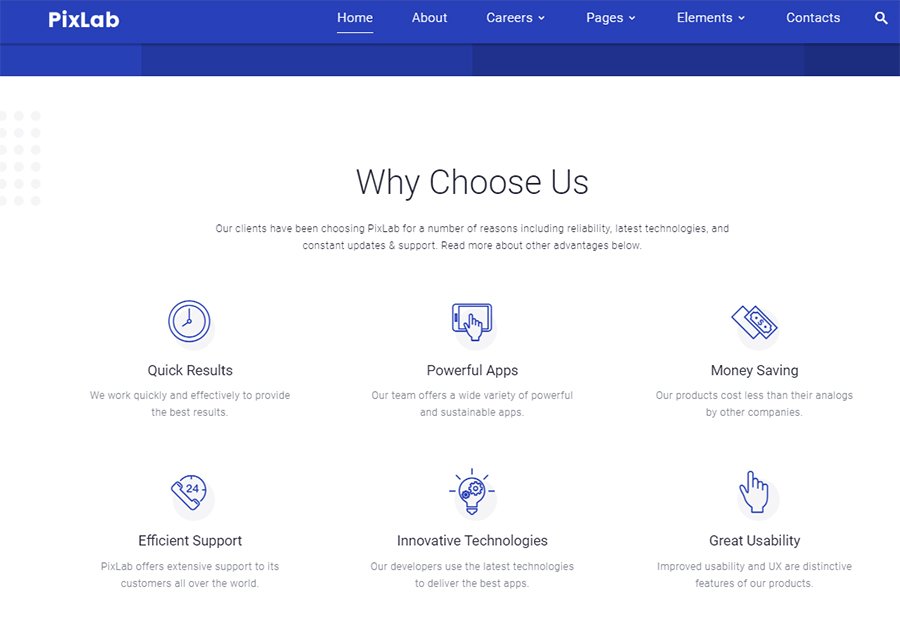 Sum Up
This was a collection of easy HTML website templates. Using one, you will create a good-looking website that will work smoothly. The templates have modern page builders inside. They offer kits with plenty of tools for web design. Besides, you can change the code. The developers used a clean code that you can modify without problems.
Though it's all about tastes and skills, HTML templates have pros. They are light, familiar to all browsers and search engines. They don't need updates. Working with them while creating a website is easy.
For this collection, I picked up the worthy options. You can use most of them for different purposes. I hope that you found a good fit for your project. Stay tuned for more templates overviews.
Here's Another Article You Might be Interested:
Disclosure of Material Connection: Some of the links in the post above are "affiliate links." This means if you click on the link and purchase the item, we will receive an affiliate commission. Regardless, we only recommend products or services we use personally and believe will add value to our readers.